About the Book
About the Book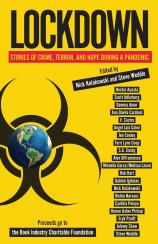 A mysterious virus sweeps across the country, mutating rapidly as it jumps from person to person. Cities are locked down. The skies are clear as all planes are grounded. Some people panic, while some go to heroic lengths to save those they love --- and others use the chaos as an opportunity to engage in purest evil.
In LOCKDOWN, 19 of today's finest suspense, horror and crime writers explore how humanity reacts to the ultimate pandemic. From New York City to the Mexican border, from the Deep South to the misty shores of Seattle, their characters are fighting for survival against incredible odds. An anthology for our time, showing how the worst crises can lead to the best of us.
Proceeds from LOCKDOWN will go to support BINC, the Book Industry Charitable Foundation, as it seeks to help booksellers recover from the devastating COVID-19 crisis.