About the Book
About the Book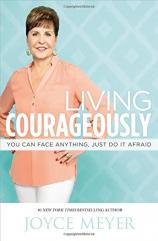 Fear commonly affects our ability to live fully, holding us back from what enriches our lives and the lives of others. But our quality of life will improve when we learn how to be courageous in the face of fear.
In LIVING COURAGEOUSLY, Joyce Meyer explains how, as Christians, we can overcome the paralyzing power of fear by calling upon the Lord. "Fear not" is written throughout the Bible. God knows His children will be confronted with fear, but He can help us resist it.
It is your inherited right as a child of God to live life to the fullest and to enjoy it. Joyce will encourage you to be expectant as you learn to conquer fear, become all God wants you to be, and do all He wants you to do. With a blend of personal insight and inspiring Scripture, this book will help you employ the power of God to overcome fear and achieve your best.
Living Courageously: You Can Face Anything, Just Do It Afraid
by Joyce Meyer