About the Book
About the Book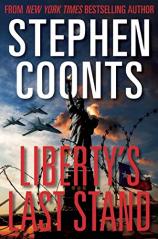 New York Times bestselling author Stephen Coonts delivers another nail-biting thriller starring CIA Director Jake Grafton and his right-hand man, Tommy Carmellini.
The president of the United States stands on an outdoor stage, flanked by powerful members of his administration and party. Television crews are preparing for broadcast. High above the stage, on a nearby rooftop, a decorated sniper adjusts the scope on his rifle.
Afterwards, America will never be the same.
Jake Grafton and Tommy Carmellini suddenly find themselves on the wrong side of the law when a public act of violence throws the country into chaos just before a presidential election. After martial law is declared and rioting begins, Grafton and Carmellini must risk everything to unravel a massive conspiracy and help a new resistance movement rise up against an unimaginable enemy…
Audiobook available, read by Eric G. Dove