About the Book
About the Book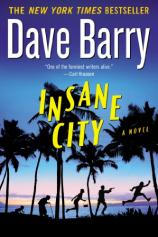 A dark comic masterpiece --- the first solo adult novel in more than a decade from the Pulitzer Prize winner and New York Times bestselling author.
Seth Weinstein knew Tina was way out of his league in pretty much any way you could imagine, which is why it continued to astonish him that he was on the plane now for their destination wedding in Florida. The Groom Posse had already sprung an airport prank on him, and he'd survived it, and if that was the worst of it, everything should be okay. Smooth sailing from now on.
Seth has absolutely no idea what he's about to get into. In the next several hours, he and his friends will become embroiled with rioters, Russian gangsters, angry strippers, a pimp as big as the Death Star, a very desperate Haitian refugee on the run with her two children from some very bad men, and an eleven-foot albino Burmese python named Blossom. And there're still two days to go before the wedding.
As it turns out, it's not smooth sailing, it's more like a trip on the Titanic. And the water below him is getting deeper every minute. By the end, amid gunfire, high-speed chases, and mayhem of the most unimaginable sort, violent men will fall, heroes will rise, and many lives will change.
Seth's, not least of all.