About the Book
About the Book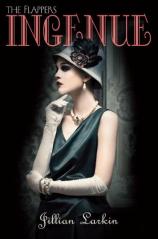 In the city that never sleeps, Lorraine Dyer is wide awake. Ever since she exposed Clara Knowles for the tramp she was --- and lost her closest confidante in the process --- Lorraine has spent every second scheming to make her selfish, lovesick ex–best friend pay for what she did. No one crosses Lorraine. Not even Gloria.
True love conquers everything --- or so Gloria Carmody crazily believed. She and Jerome Johnson can barely scrape together cash for their rent, let alone have a moment to whisper sweet nothings in the dark. And if they thought escaping Chicago meant they'd get away with murder . . . they were dead wrong.
Clara was sure that once handsome, charming Marcus Eastman discovered her shameful secret, he'd drop her like a bad habit. Instead, he swept her off her feet and whisked her away to New York. Being with Marcus is a breath of fresh air --- and a chance for Clara to leave her wild flapper ways firmly in the past. Except the dazzling parties and bright lights won't stop whispering her name. . . .
INGENUE is the second novel in the sexy, dangerous, and ridiculously romantic Flappers series set in the Roaring Twenties . . . where revenge is a dish best served cold.