About the Book
About the Book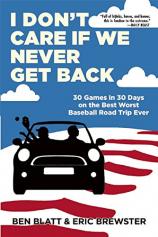 Ben, a sports analytics wizard, loves baseball. Eric, his best friend, hates it. But when Ben writes an algorithm for the optimal baseball road trip, an impossible dream of seeing every pitch of 30 games in 30 stadiums in 30 days, who will he call on to take shifts behind the wheel, especially when those shifts will include stretches as relaxing as 19 hours straight from Phoenix to Kansas City? Eric, of course. Will Eric regret it? You might ask, Are Dodger Dogs the same thing as Fenway Franks? As Ben and Eric can now attest, most definitely.
On June 1, 2013, Ben and Eric set out to see America through the bleachers and concession stands of America's favorite pastime. Driving an average of ten hours a days and sleeping in the comfort of gas station backlots, every day becomes a fight against the clock in the name of a sport that doesn't have one. But as they try to explore whether time has finally caught up to the game that has defined a nation for generations, they can't help but get terribly lost in the process. Along the way, human error and Mother Nature throw their mathematically optimized schedule a few curveballs. A mix up in Denver turns a planned day off in Las Vegas into a 20 hour drive, for one. And a summer storm of biblical proportions in Chicago threatens to make the whole adventure logistically impossible, and that's if they don't kill each other first.
Charming, insightful and hilarious, I DON'T CARE IF WE NEVER GET BACK is a book about the love of the game, the limits of fandom, and the limitlessness of friendship.
I Don't Care if We Never Get Back: 30 Games in 30 Days on the Best Worst Baseball Road Trip Ever
by Ben Blatt and Eric Brewster
Publication Date: April 14, 2015
Genres: Nonfiction, Sports
Paperback: 272 pages
Publisher: Grove Press
ISBN-10: 0802123767
ISBN-13: 9780802123763