Excerpt
Excerpt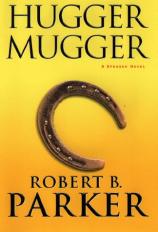 Chapter 1
I was at my desk, in my office, with my feet up on the windowsill, and a yellow pad in my lap, thinking about baseball. It's what I always think about when I'm not thinking about sex. Susan says that supreme happiness for me would probably involve having sex while watching a ball game. Since she knows this, I've never understood why, when we're at Fenway Park, she remains so prudish.
My focus this morning was on one of those "100 greatest" lists that the current millennium had spawned. In the absence of a 100 greatest sexual encounters list (where I was sure I would figure prominently), I was vetting the 100 greatest baseball players list and comparing it to my own. Mine was of more narrow compass, being limited to players I'd seen. But even so, the official list needed help. I was penciling in Roy Campanella ahead of Johnny Bench, when my door opened and a man and woman came in. The woman was great to look at, blond, tight figure, nice clothes. The man was wearing aviator sunglasses. He looked like he might have a view on Roy Campanella, but I was pretty sure she wouldn't. On the other hand, she might have a view on sexual encounters. I could go either way.
"Good morning," I said, to let them know there were no hard feelings about them interrupting me.
"Spenser?" the man said.
"That's me," I said.
"I'm Walter Clive," he said. "This is my daughter Penny."
"Sit down," I said. "I have coffee made."
"That would be nice."
I went to the Mr. Coffee on the filing cabinet and poured us some coffee, took milk and sugar instructions, and passed the coffee around.
When we were settled in with our coffee, Clive said, "Do you follow horse racing, sir?"
"No."
"Have you ever heard of a horse named Hugger Mugger?"
"No."
"He's still a baby," Clive said, "but there are people who will tell you that he's going to be the next Secretariat."
"I've heard of Secretariat," I said.
"Good."
"I was at Claiborne Farms once and actually met Secretariat," I said. "He gave a large lap."
He smiled a pained smile. Horse people, I have noticed, are not inclined to think of horses in terms of how, or even if, they kiss.
"That's fine," he said.
Penny sat straight in her chair, her hands folded in her lap, her knees together, her ankles together, her feet firmly on the floor. She was wearing white gloves and a set of pearls, and a dark blue dress that didn't cover her knees. I was glad that it didn't.
"I own Three Fillies Stables. Named after my three daughters. We're in Lamarr, Georgia."
"Racehorses," I said.
"Yes, sir. I don't breed them, I buy and syndicate."
Penny was wearing shoes that matched her dress. They were conservative heels, but not unfashionable. Her ankles were great.
"In the past month," Clive said, "there has been a series of attacks on our horses."
"Attacks?"
"Someone is shooting them."
"Dead?"
"Some die, some survive."
"Do we have a theory?" I said.
"No, sir. The attacks seem entirely random and without motivation."
"Insurance scam?"
"Nothing so crude as shooting the horse," Clive said.
He was tall and athletic and ridiculously handsome. He had a lot of white teeth and a dark tan. His silver hair was thick and smooth. He was wearing a navy blazer with a Three Fillies crest on it, an open white shirt, beige linen trousers, and burgundy loafers with no socks. I approved. I was a no-socks man myself.
"Eliminate the competition?"
Clive smiled indulgently.
"Some of the horses who've been shot are barn ponies, not even Thoroughbreds ---to think you could do anything constructive for your own horse, by eliminating other horses . . . not possible."
"Only a dumb city guy would even think of such a thing," I said.
He smiled again. It was a smile that said, Of course I'm superior to you, and both of us know it, but I'm a good guy and am not going to hold it against you.
"You're a detective, you have to ask these questions," he said kindly.
He smiled again. Penny smiled. I smiled back. Weren't we all just dandy. Penny had big eyes, the color of morning glories. Her eyes were nearly as big as Susan's, with thick lashes. Her smile was not superior. It was friendly . . . and maybe a little more.
"Last week, someone made an attempt on Hugger Mugger," Clive went on.
"Unsuccessful?"
"Yes. His groom, Billy Rice, was in the stall with him, at night. Hugger had been sort of peckish that day and Billy was worried about him. While he was there someone opened the stall door. Billy shined his flashlight, and saw a rifle barrel poking through the open door. When the light came on, the rifle barrel disappeared and there were running footsteps. By the time Billy peeked out around the door, there was nothing."
"Footprints?" I said.
"No."
"Could he describe the gun barrel?"
"The gun barrel? What's to describe?"
"Did it have a magazine under the barrel, like a Winchester? Long stock or not? Front sight? Gun barrels are not all the same."
"Oh God," Clive said, "I don't know."
I tried not to smile a smile that said, Of course I'm superior to you, and both of us know it, but I'm a good guy and am not going to hold it against you.
"Cops?" I said.
"Local police," Clive said. "And I have my own security consultant."
"Local police are the Columbia County Sheriff's Department," Penny said. "The deputy's name is Becker."
"I wish to hire you, sir, to put a stop to this," Clive said.
"To prevent the horse from being hurt?"
"That certainly."
"Usually I get only one end of the horse," I said.
Penny laughed.
Clive said, "Excuse me?"
"Daddy," Penny said, "he's saying sometimes he gets a client who's a horse's ass."
"Oh, of course. Guess I'm too worried to have a sense of humor."
"Sure," I said.
"Well, sir, are you interested or not?"
"Tell me a little more of how you see this working," I said. "Am I sleeping on a blanket in the horse's stall, with a knife in my teeth?"
He smiled to show that he really did have a sense of humor even though he was worried.
"No, no," he said. "I have some armed security in place. An agency in Atlanta. I would like you to look at the security and let me know what you think. But, primarily, I want you to find out who is doing this and, ah, arrest them, or shoot them, or whatever is the right thing."
"And what makes you think I'm the man for the job?" I said.
Penny smiled at me again. She thought my modesty was very becoming.
"The horse world is a small one, sir. You were involved in some sort of case over there in Alton a few years back, with Jumper Jack Nelson. I knew of it. I talked with the Alton Police, with someone in the South Carolina State Attorney's Office. My attorney looked into it. We talked with the FBI in Atlanta. We talked with a man named Hugh Dixon with whom I once did some business. We talked to a Massachusetts State Police captain named Healy, and a Boston police captain named Quirk."
"How the hell did you find Hugh Dixon?" I said.
"I have money, sir. My attorneys are resourceful."
"And I'm the man?"
"Yes, sir, you are."
"Fairly expensive," I said.
"What are your fees?" Clive said.
I told him.
"That will not be an issue," he said.
"And who is the outfit in Atlanta that's on the job now?" I said.
"Security South."
Meant nothing to me.
"The on-site supervisor is a man named Delroy. Jon Delroy."
That meant nothing to me either.
"Will Mr. Delroy be pleased to see me?"
"He'll cooperate," Clive said.
"No," Penny said. "I don't think he will be pleased to see you." Clive looked at her.
"Well, it's the truth, Daddy. He will be absolutely goddamned livid."
Clive smiled. He couldn't help being condescending, but it was a genuine smile. He liked his daughter.
"Penny has been quiet during our interview, Mr. Spenser. But don't assume that it's habitual."
"Jon will have trouble with you bringing in someone over him," Penny said. "Mr. Spenser may as well know that now."
Clive nodded.
"He's not really 'over' Jon," Clive said. "But Jon may feel a bit compromised. That a problem to you, Mr. Spenser?"
"No."
"Really?" Penny said. "You think you can work with someone like that?"
"I'll win him over," I said.
"How?"
"Northern charm," I said.
"Isn't that an oxymoron?" she said.
"You're right," I said. "Maybe I'll just threaten him."
Excerpted from HUGGER MUGGER by Robert B. Parker by permission of Putnam Pub. Group, a member of Penguin Putnam Inc. Copyright (c) 2000 by Robert B. Parker. All rights reserved.