About the Book
About the Book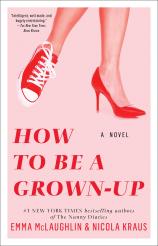 The witty and wise authors of THE NANNY DIARIES are back with an irresistible comedy about a forty-something wife and mother thrust back into the workforce, where she finds herself at the mercy of a #BossHalfHerAge.
When Rory McGovern's actor husband, Blake, loses his dream job and announces he's going to "crash" at a friend's, Rory can't imagine that he might be entering a mid-life crisis that could avalanche their whole lives. She was already spread thin and now, without warning, she's single-parenting two kids, juggling science projects, flu season, karate classes and middle school applications, all while coming to terms with her disintegrating marriage. Financially strapped, her only hope is to accept a full-time position working for two full-time twenty-somethings, Taylor and Kimmy.
Armed with their Ivy League MBAs and dressed to go clubbing, these girls think they know it all and have been given the millions from venture capitalists to back up their delusion --- that the future of digital media is JeuneBug, a luxury lifestyle site for kids.
With shattered confidence, Rory jumps in headfirst and despite being constantly undermined by her underwhelmed bosses, becomes the top contributor thanks to her creativity and --- wait for it --- experience. Her bosses might think that's a dirty word, but when the Proenza Schueler hits the fan Rory's experience just might be the only thing that can save them.
Since their "diabolically funny" (The New York Times) debut THE NANNY DIARIES, McLaughlin and Kraus have proven their ability to illuminate provocative issues with wry wit and heartfelt emotion. HOW TO BE A GROWN-UP is an entertaining and insightful story aimed at anyone, of any age, who is waiting to feel "grown-up."
How to Be a Grown-Up
by Emma McLaughlin and Nicola Kraus
Publication Date: July 12, 2016
Genres: Fiction
Paperback: 256 pages
Publisher: Washington Square Press
ISBN-10: 1451643470
ISBN-13: 9781451643473