Excerpt
Excerpt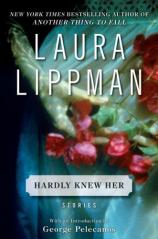 Chapter One
The Crack Cocaine Diet
I had just broken up with Brandon and Molly had just broken up with Keith, so we needed new dresses to go to this party where we knew they were both going to be. But before we could buy the dresses, we needed to lose weight because we had to look fabulous, kiss-my-ass-fuck-you fabulous.
Kiss-my-ass-fuck-you-and-your-dick-is-really-tiny fabulous. Because, after all, Brandon and Keith were going to be at this party, and if we couldn't get new boyfriends in less than eight days, we could at least go down a dress size and look so good that Brandon and Keith and everybody else in the immediate vicinity would wonder how they ever let us go. I mean, yes, technically, they broke up with us, but we had been thinking about it, weighing the pros and cons. (Pro: they spent money on us. Con: they were childish. Pro: we had them. Con: tiny dicks, see above.) See, we were being methodical and they were just all impulsive, the way guys are. That would be another con --- poor impulse control. Me, I never do anything without thinking it through very carefully. Anyway, I'm not sure what went down with Molly and Keith, but Brandon said if he wanted to be nagged all the time, he'd move back in with his mother, and I said, "Well, given that she still does your laundry and makes you food, it's not as if you really moved out," and that was that. No big loss.
Still, we had to look so great that other guys would be punching our exes in the arms and saying, "What, are you crazy?" Everything is about spin, even dating. It's always better to be the dumper instead of the dumpee, and if you have to be the loser, then you need to find a way of being superior. And that was going to take about seven pounds for me, as many as ten for Molly, who doesn't have my discipline and had been doing some serious breakup eating for the past three weeks. She went facedown in the Ding Dongs, danced with the Devil Dogs, became a Ho Ho ho. As for myself, I'm a salty girl, and I admit I had the Pringles Light can upended in my mouth for a couple of days.
So, anyway, Molly said Atkins, and I said not fast enough, and then I said a fast-fast, and Molly said she saw little lights in front of her eyes the last time she tried to go no food, and she said cabbage soup and I said it gives me gas, and then she said pills, and I said all the doctors we knew were too tight with their scrips, even her dentist boss since she stopped blowing him. And, finally, Molly had a good idea and said: "Cocaine!"
This merited consideration. Molly and I had never done more than a little recreational coke, always provided by boyfriends who were trying to impress us, but even my short-term experience indicated it would probably do the trick. The tiniest bit revved you up for hours and you raced around and around, and it wasn't that you weren't hungry, more like you had never even heard of food, it was just some quaint custom from the olden days, like square dancing. I mean, you could do it in theory, but why would you?
"Okay," I said. "Only where do we get it?" After all, we're girls, girly girls. I had been drinking and smoking pot since I was sixteen, but I certainly didn't buy it. That's what boyfriends were for. Pro: Brandon bought my drinks, and if you don't have to lay out cash for alcohol, you can buy a lot more shoes.
Molly thought hard, and Molly thinking was like a fat guy running --- there was a lot of visible effort.
"Well, like, the city."
"But where in the city?"
"On, like, a corner."
"Right, Molly. I watch HBO, too. But I mean, what corner? It's not like they list them in that crap Weekender Guide in the paper --- movies, music, clubs, where to buy drugs."
So Molly asked a guy who asked a guy who talked to a guy, and it turned out there was a place just inside the city line, not too far from the interstate. Easy on, easy off, then easy off again. Get it? After a quick consultation on what to wear --- jeans and T-shirts and sandals, although I changed into running shoes after I saw the condition of my pedicure --- we were off. Very hush-hush because, as I explained to Molly, that was part of the adventure. I phoned my mom and said I was going for a run. Molly told her mom she was going into the city to shop for a dress, and we were off.
The friend of Molly's friend's friend had given us directions to what turned out to be an apartment complex, which was kind of disappointing. I mean, we were expecting rowhouses, slumping picturesquely next to each other, but this was just a dirtier, more run-down version of where we lived, little clusters of two-story townhouses built around a courtyard. We drove around and around and around, trying to seem very savvy and willing, and it looked like any apartment complex on a hot July afternoon. Finally, on our third turn around the complex, a guy ambled over to the car.
"What you want?"
"What you got?" I asked, which I thought was pretty good. I mean, I sounded casual but kind of hip, and if he turned out to be a cop, I hadn't implicated myself. See, I was always thinking, unlike some people I could name.
"Got American Idol and Survivor. The first one will make you sing so pretty that Simon will be speechless. The second one will make you feel as if you've got immunity for life."
"O-kay." Molly reached over me with a fistful of bills, but the guy backed away from the car.
Excerpted from HARDLY KNEW HER: Stories © Copyright 2011 by Laura Lippman. Reprinted with permission by William Morrow. All rights reserved.
Hardly Knew Her: Stories
by by Laura Lippman
Genres: Fiction, Short Stories
hardcover: 304 pages
Publisher: William Morrow
ISBN-10: 0061584991
ISBN-13: 9780061584992