About the Book
About the Book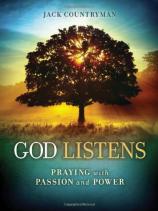 God's Word is the food of life for a Christian, and prayer is the breath.
Prayer is the most powerful spiritual tool available to a believer. Through an open heart and a willingness to be immersed in Scripture, people will find that they are covered by God's Spirit. When people completely depend on God, they find that they are richly blessed and forgiven, and all of their needs will be met by God and His grace.
Written by bestselling author Jack Countryman, GOD LISTENS will help revive the prayer life of readers from any background. The book opens with sections of Confession, Thanksgiving, Praise, Supplication, and Intercession. Then come prayers for twenty specific needs ranging from physical healing, financial needs, worship and hope, to salvation and eternal life. Each of the more than 100 prayers is based on Scripture. Every prayer reflects a believer's sincere, heartfelt desire to be more of the person God calls His people to be. Journaling space is included for writing your own prayers.