About the Book
About the Book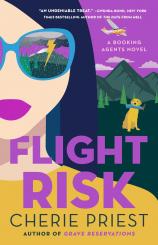 Inconsistent psychic Leda Foley and Seattle detective Grady Merritt return to solve the case of a missing couple in this sequel to the "delightful" (The New York Times Book Review) mystery GRAVE RESERVATIONS.
When psychic travel agent Leda Foley is approached by a man searching for his sister, she quickly agrees to help. The missing woman disappeared with a vintage orange car, a fat sack of her employer's cash, and a grudge against her philandering husband --- a man who never even reported her missing.
Meanwhile, Seattle PD detective Grady Merritt has temporarily misplaced his dog. While he's passing out bright pink "Lost" flyers at the Mount Rainier visitor's center, the wayward pooch appears --- with a human leg in his mouth.
Thanks to DNA matching, Grady soon learns that Mr. Leg has something to do with Leda's new client, and soon the two cases are tangled.
Theories abound, but law enforcement is low on leads. Lucky for Grady, Leda has a few ideas that might just be crazy enough to work. They'll need one yellow dog, a fair share of teamwork, and perhaps a bit of Klairvoyant Karaoke to piece the clues together in this "undeniable treat" (Gwenda Bond, New York Times bestselling author) of a mystery.
Audiobook available, read by Ulka Simone Mohanty and Timothy Andrés Pabon