About the Book
About the Book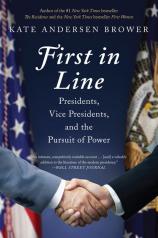 From the author of the New York Times bestsellers FIRST WOMEN and THE RESIDENCE, an intimate, news-making look at the men who are next in line to the most powerful office in the world --- the vice presidents of the modern era --- from Richard Nixon to Joe Biden to Mike Pence.
Vice presidents occupy a unique and important position, living partway in the spotlight and part in the wings. Of the 48 vice presidents who have served the United States, 14 have become president; eight of these have risen to the Oval Office because of a president's death or assassination, and one became president after his boss's resignation. John Nance Garner, FDR's first vice president, famously said the vice presidency is "not worth a bucket of warm piss" (later cleaned up to "warm spit"). But things have changed dramatically in recent years. In interviews with more than 200 people, including former vice presidents, their family members and insiders and confidants of every president since Jimmy Carter, Kate Andersen Brower pulls back the curtain and reveals the complicated relationship between our modern presidents and their vice presidents.
Brower took us inside the lives of the White House staff and gave us an intimate look at the modern First Ladies; now, in her signature style, she introduces us to the second most powerful men in the world, exploring the lives and roles of 13 modern vice presidents --- eight Republicans and five Democrats. And she shares surprising revelations about the relationship between former Vice President Joe Biden and former President Barack Obama and how Vice President Mike Pence and President Donald Trump interact behind closed doors.
From rivals to coworkers, there is a very tangible sense of admiration mixed with jealousy and resentment in nearly all these relationships between the number two and his boss, even the best ones, Brower reveals. Vice presidents owe their position to the president, a connection that affects not only how they are perceived but also their possible future as a presidential candidate --- which is tied to the president they serve. George H. W. Bush and Ronald Reagan had a famously prickly relationship during the 1980 primary, yet Bush would not have been elected president in 1988 without Reagan's high approval rating. Al Gore's 2000 loss, meanwhile, could be attributed to the Monica Lewinsky sex scandal and Bill Clinton's impeachment. Current Vice President Mike Pence is walking a high-stakes political tightrope as he tries to reassure anxious Republicans while staying on his boss's good side.
This rich dynamic between the president and the vice president has never been fully explored or understood. Compelling and deeply reported, grounded in history and politics, and full of previously untold and incredibly personal stories, FIRST IN LINE pierces the veil of secrecy enveloping this historic political office to offer us a candid portrait of what it's truly like to be a heartbeat away.
Audiobook available, read by Fred Sanders
First in Line: Presidents, Vice Presidents, and the Pursuit of Power
by Kate Andersen Brower
Publication Date: May 28, 2019
Genres: History, Nonfiction, Politics
Paperback: 352 pages
Publisher: Harper Paperbacks
ISBN-10: 0062668951
ISBN-13: 9780062668950