About the Book
About the Book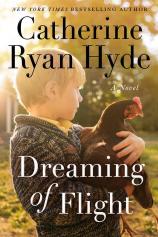 An unexpected connection becomes the saving grace for two unlikely friends in a heart-stirring novel about love, loss and moving forward by a New York Times and #1 Amazon Charts bestselling author.
Never knowing his parents, 11-year-old Stewie Little and his brother have been raised on a farm by their older sister. Stewie steadfastly tends the chickens left by his beloved late grandmother. And every day Stewie goes door to door selling fresh eggs from his wagon --- a routine with a surprise just around the corner. It's his new customer, Marilyn. She's prickly and guarded, yet comfortably familiar --- she reminds the grieving Stewie so much of the grandmother he misses more than he can express.
Marilyn has a reason for keeping her distance: a secret no one knows about. Her survival tactic is to draw a line between herself and other people --- one that Stewie is determined to cross. As their visits become more frequent, a complicated but deeply rooted relationship grows. That's when Stewie discovers how much more there is to Marilyn, to her past and to challenges that become more pressing each day. But whatever difficult times lie ahead, Stewie learns that although he can't fix everything for Marilyn or himself, at least he's no longer alone.
Audiobook available, read by Janet Metzger and Michael Crouch
Dreaming of Flight
by Catherine Ryan Hyde
Publication Date: May 3, 2022
Genres: Fiction
Paperback: 304 pages
Publisher: Lake Union Publishing
ISBN-10: 1542021588
ISBN-13: 9781542021586