About the Book
About the Book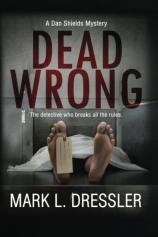 Homicide is his business, and no two crime scenes are the same. Detective Dan Shields is rudely awakened in the middle of the night and responds to a report of two dead people at the Hartford City College radio station.
Student DJ Gordon Gunderson's late Sunday evening jazz show ends abruptly. Listeners hear nothing but dead air. His death is an apparent drug overdose, but the other victim, security guard Christine Kole, appears to have been brutally murdered. The last text message on Gordon's cell phone leads Dan down a path of lies and deceptions.
Adding to the detective's case load are the Halloween killings of two men, both costumed as Batman. The late-night shootings occur at different Hartford locations. One victim is at a nightclub, while the other body is behind a diner's dumpster. The first dead man is known to have been living at a homeless shelter, while the second corpse is unidentified. Are the killings related, or are they coincidental?