About the Book
About the Book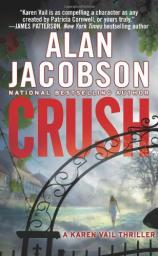 Fresh off the most challenging case of her career, THE 7TH
VICTIM heroine and renowned FBI profiler Karen Vail returns in an
explosive thriller set against the backdrop of California's
wine country.
Hoping to find solace from the demons that haunt her, Vail makes
her first trip to the Napa Valley. But shortly after arriving, a
victim is found in the deepest reaches of an exclusive wine cave,
the work of an extraordinarily unpredictable serial killer. From
the outset, Vail is frustrated by her inability to profile the
offender --- until she realizes why: the Behavioral Analysis Unit
has not previously encountered a killer like him.
As Vail and the task force work around the clock to identify and
locate him, they're caught in a web knotted with secretive
organizations, a decades-long feud between prominent wine families,
and widespread corruption that leads Vail to wonder whom, if
anyone, she can trust. Meanwhile, as the victim count rises, Vail
can't shake the gnawing sense that something isn't
right.
With the killer's actions threatening the Napa
Valley's multi-billion dollar industry, the stakes have never
been greater, and the race to find the killer never more urgent.
And through it all, a surprise lurks... one that Karen Vail never
sees coming.
Meticulously researched during years of work with the FBI
profiling unit and extensive interviews with wine industry
professionals, bestselling author Alan Jacobson delivers a
high-velocity thriller featuring the kind of edge of-your-seat
ending that inspired Nelson DeMille to call him "a hell of a
writer."
CRUSH © Copyright 2010 by Alan Jacobson. Reprinted with
permission by Vanguard Press. All rights reserved.