About the Book
About the Book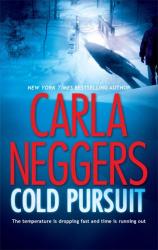 The temperature is dropping fast and time is running
out.
A number of prominent figures have been killed under mysterious
circumstances in the past year. All unconnected. But when an
esteemed U.S. ambassador is slain in a questionable hit-and-run in
Washington, D.C. and his stepdaughter vanishes mere hours later in
the mountains of northern New England, suspicions are raised by a
Secret Service agent and a recovering Special Forces soldier in
COLD PURSUIT, the newest novel by New York Times
bestselling author Carla Neggers.
Secret Service agent Jo Harper finds herself on a forced
sabbatical back in her hometown of Black Falls, in the heart of
Vermont's Green Mountains, laying low after an embarrassing
incident involving the vice president's precocious son is
caught on video and becomes a YouTube sensation. But she
doesn't count on old flame Elijah Cameron being around. A
sergeant in the Special Forces, Elijah is recovering from a
near-fatal wound received on a secret mission in Afghanistan.
However, before Jo and Elijah can dredge up the past, esteemed
U.S. ambassador Alexander Bruni is killed in a suspicious
hit-and-run incident, and his stepdaughter, Nora --- a recent Black
Falls resident --- bolts off into the wilds on rugged Cameron
Mountain.
When their sources connect the ambassador's death to the
mysterious demises of a number of other prominent figures, Elijah
and Jo suspect that Nora's vanishing is not a coincidence ---
she's disappeared for her own safety.
But how secure is she? Not a safe place at the best of times,
Cameron Mountain in November is a dangerous and treacherous peak.
Determined to bring Nora back before the brutal elements and the
unforgiving mountain overcome her, Jo forms an uneasy alliance with
Elijah and they head off after her.
But they are not the only ones looking for the young girl. A
professional killer is also on Nora's trail and is resolved
to make sure she --- and anyone who gets in his way ---
doesn't get off Cameron Mountain alive.
COLD PURSUIT © Copyright 2010 by Carla Neggers. Reprinted
with permission by Mira. All rights reserved.
Cold Pursuit
by Carla Neggers
Publication Date: November 1, 2008
Genres: Fiction
Mass Market Paperback: 384 pages
Publisher: Mira
ISBN-10: 0778325539
ISBN-13: 9780778325536