About the Book
About the Book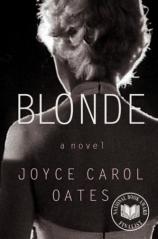 In her Author's Note, Joyce Carol Oates explains that Blonde is "a radically distilled 'life' in the form of fiction," not a biography of Norma Jean Baker, a.k.a. Marilyn Monroe. In fact, Blonde is perhaps Joyce Carol Oates' most ambitious novel.
Opening the book with Norma Jean's early years, Joyce Carol Oates draws a vivid portrait of a child's painful relationship with her mentally ill mother, Gladys, and her longing for a missing father. Oates also chillingly foreshadows, and at the same time makes comprehensible, the tragedy about to unfold. In one instance, star-struck Gladys, showing her young daughter the homes of Hollywood celebrities, comments about Valentino: "He had no talent for acting at all. He had no talent for life. But he was photogenic, and he died at the right time. Remember, Norma Jean -- die at the right time."
Then, Norma Jean, vulnerable and haunted by demons, grows into a wildly voluptuous woman. She succeeds as a pin-up, becomes Marilyn Monroe, gets her big break in Niagara, and begins her liaisons with the powerful men who desire and abuse her. Oates deftly reveals the fragile, gifted actress behind the icon. Yet while acknowledging the art of acting, Oates blasts the cold, destructive beast called Hollywood, and she draws scathing, unforgiving portraits of the famous men in Norma Jean's life, from the ex-athlete who beats her to the President who uses her and tosses her aside.
Monumental in its detail and scope, luminescent in its prose, Blonde examines the interior life of a woman, the culture that made her into an icon, and the forces that killed her. Related by a narrator on the brink of extinction, this multi-layered work sweeps the reader along on a tidal wave of emotion to an inevitable end . . . but an end where only Norma Jean dies. Marilyn Monroe and all her glittering movie personas live on.
Blonde
by Joyce Carol Oates
Publication Date: June 22, 2011
Genres: Biography, Nonfiction
Paperback: 752 pages
Publisher: Harper Perennial
ISBN-10: 006093493X
ISBN-13: 9780060934934