About the Book
About the Book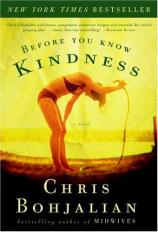 For ten summers, the Seton family --- all three generations --- met at their country home in New England to spend a week together playing tennis, badminton, and golf, and savoring gin and tonics on the wraparound porch to celebrate the end of the season. In the eleventh summer, everything changed. A hunting rifle with a single cartridge left in the chamber wound up in exactly the wrong hands at exactly the wrong time, and led to a nightmarish accident that put to the test the values that unite the family --- and the convictions that just may pull it apart.
Before You Know Kindness is a family saga that is timely in its examination of some of the most important issues of our era, and timeless in its exploration of the strange and unexpected places where we find love.
As he did with his earlier masterpiece, Midwives, Chris Bohjalian has written a novel that is rich with unforgettable characters --- and absolutely riveting in its page-turning intensity.
Before You Know Kindness
by Chris Bohjalian
Publication Date: October 5, 2004
Genres: Fiction, Literary Fiction
Hardcover: 448 pages
Publisher: Shaye Areheart Books
ISBN-10: 1400047455
ISBN-13: 9781400047451