About the Book
About the Book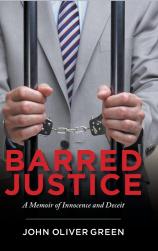 A disturbing firsthand account of what it's like to be falsely accused, convicted and incarcerated for a crime you didn't commit.
In 1982, young tax attorney John Green receives word that a client's plane has just crashed. The client's wife asks John to fly to Mississippi, find her husband's plane and see if he is still alive. Arriving at the crash site, he discovers that his client has died while smuggling drugs from Columbia.
Soon John finds himself caught between a vengeful IRS agent with a personal grudge and a drug cartel that wants him dead. With his life in danger, he flees from Oklahoma to Texas where he is indicted and arrested. Without bail, he is shuffled from jail to jail and denied medical treatment while agents try to coerce a confession. John declines a misdemeanor plea, believing that justice will prevail if he goes to trial.
Barred Justice: A Memoir of Innocence and Deceit
by John Oliver Green
Publication Date: June 23, 2022
Genres: Memoir, Nonfiction
Hardcover: 470 pages
Publisher: Seacoast Press
ISBN-10: 1958729051
ISBN-13: 9781958729052