About the Book
About the Book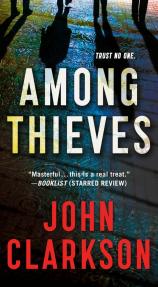 They thought they could cover up what an out-of-control trader at a Manhattan brokerage firm did to Olivia Sanchez. She worked hard, played by the rules, but so what? Blackball her from the industry and be done with her. Who's going to stop them? No one --- until now...
When Olivia turns to her cousin Manny, an ex-con and ex--gang leader, all bets are off. Manny sets out to take care of the arrogant bastard who hurt his cousin-for good. But his partner, James Beck, part of a tight clique of ex-cons based in Brooklyn's Red Hook, convinces Manny to hold off. Things can be complicated in the world of finance. But even Beck could not have imagined how much is really at stake...
Soon Beck and his loyal band are forced into an escalating war against criminals of every stripe --- from Wall Street honchos and Russian mobsters to arms dealers and even the NYPD. Now, the only way for Beck to stay out of prison is to outsmart, outfight, never concede, and ultimately rob their enemies of tens of millions of dollars...if he doesn't lose his life first.