About the Book
About the Book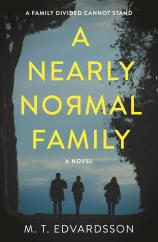 When the teenage daughter of responsible, upstanding parents is accused of murder, a family realizes that it isn't love that will keep them together: it's lies.
Eighteen-year-old Stella Sandell stands accused of the brutal murder of a man almost 15 years her senior. She is an ordinary teenager from a respectable local family. What reason could she have to know a shady businessman, let alone to kill him?
Told in an unusual three-part structure, this gripping, domestic drama pushes a family to its limits. The father, a pastor, believes his daughter can only be innocent, despite mounting evidence. The mother, a defense attorney, believes no one is telling the truth. And the daughter, desperate for her dreams of the future, believes no one understands how far she is willing to go.
In this complex, multi-layered novel, every character's loyalty and morality is tested. Are we duty-bound to defend our family, even with the evidence against them? Is anyone who they seem on the surface? And what are we willing to compromise to keep our lives, as we know them, intact?
Audiobook available; read by Richard Armitage, Georgia Maguire and Emily Watson
A Nearly Normal Family
written by M.T. Edvardsson, translated by Rachel Willson-Broyles
Publication Date: June 30, 2020
Paperback: 400 pages
Publisher: Celadon Books
ISBN-10: 1250204593
ISBN-13: 9781250204592