About the Book
About the Book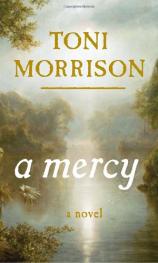 Set in the 1680s, in the early stages of the slave trade, A Mercy gives voice to a remarkable group of characters: Jacob, an Anglo-Dutch farmer, trader, and lender; his wife, Rebekka, newly arrived from England; their servant woman, the Native American Lina, whose tribe has been wiped out by smallpox; Florens, the slave girl he reluctantly accepts as payment for a bad loan; and the permanently shipwrecked Sorrow, daughter of a sea captain killed in a storm off the coast of the Carolinas. These characters take turns narrating the story, and their voices carry the physical and emotional scars of the struggles of their lives.
A Mercy is a visceral, intricately textured novel that takes readers right to the origins of America, a place where the seeds of the racial, religious, and class tensions that would later come to fruition in revolution and civil war were already being sown. It is a place where people are forced to make wrenching decisions. Jacob does not wish to take a slave as payment for a bad debt, but he feels it's the best option available. Nor does he wish to traffic in slavery --- he prides himself on his honest work --- though he is willing to make huge profits off the slave labor of sugar plantations in Barbados. Florens's mother does not want to part with her daughter, but feels that Florens will be better off with Jacob than with her own cruel master. Rebekka knows that even as a white woman, the only choices open to her are wife, servant, and prostitute. Florens, Lina, and Sorrow, who are servants, know that if both their master and mistress die, their already circumscribed choices will disappear completely and they will be fair game for anyone. This is a world in which women—white, black, and Native American --- are especially vulnerable, literally at the mercy of the men who hold power over them.
But A Mercy is as much a novel of experience as ideas, and it is the vividness and immediacy of these characters that makes the novel so powerful. These are voices that have not been heard before, voices silenced first by cruelty and then by history.
In A Mercy they are free to speak at last.
A Mercy
by Toni Morrison
Publication Date: November 11, 2008
Genres: Fiction
Hardcover: 176 pages
Publisher: Knopf
ISBN-10: 0307264238
ISBN-13: 9780307264237