About the Book
About the Book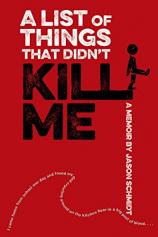 Jason Schmidt wasn't surprised when he came home one day during his junior year of high school and found his father, Mark, crawling around in a giant pool of blood. Things like that had been happening a lot since Mark had been diagnosed with HIV, three years earlier.
Jason's life with Mark was full of secrets --- about drugs, crime and sex. If the straights --- people with normal lives --- ever found out any of those secrets, the police would come. Jason's home would be torn apart. So the rule, since Jason had been in preschool, was never to tell the straights anything.
A LIST OF THINGS THAT DIDN'T KILL ME is a funny, disturbing memoir full of brutal insights and unexpected wit that explores the question: How do you find your moral center in a world that doesn't seem to have one?
A List of Things That Didn't Kill Me: A Memoir
by Jason Schmidt
Publication Date: January 5, 2016
Genres: Nonfiction, Young Adult 14+
Paperback: 432 pages
Publisher: Square Fish
ISBN-10: 1250073723
ISBN-13: 9781250073723