Summer Golf Reading for 2013
Golf Books
Summer Golf Reading for 2013
For those of us living in the Midwest, our 2013 golf season opened with a deluge of rain and cold weather. March found most of our golf courses unable to open, frustrating golfers anxious to get on the links for a new season of golf. In 2012, my local course had more than a thousand rounds played during March. This year, the course was unable to accommodate even one round. Of course, the frustration level increases for golfers as they anticipate a new season --- a season that will be the year to bring great improvement. Golf is a game of hope and optimism. Deep down, every golfer believes this will be the year when the drives are long and straight, the putter a magic wand, and the handicap drops like the stock market in a recession.
So, what to do in March when the weather keeps you off the course? If I can't play golf, I can read about it. For the past several years, I have compiled a list of books covering a wide range of golfing subjects. This year, instructional books, biographies, inspirational golf titles and a wonderful children's book are included in my roundup. It is a group of books that readers will enjoy for vacations, game improvement, or reading with a child or grandchild.
---
One of the lures of golf is the ability of generations to share in their enjoyment of the game. Certainly, a parent and child can toss a baseball or football around for a few minutes, but only this sport allows for time to be spent together for a round of golf on a beautiful day. It allows for sharing the experience of great shots and not so great shots. It may take place on your home course or on one of the greatest courses of the world. WALKING WITH JACK: A Father's Journey to Become His Son's Caddie by Don J. Snyder is a unique story of such a relationship described succinctly by the author, who promised his son at a young age that "…no matter what happened, he would become a pro golfer some day in the bright future of our time, and I would be his caddie so that I could walk beside for as far as the game might take us."
Snyder recounts a nearly six-year parallel journey by father and son to accomplish the twin goals of tour professional and caddie. Not content to simply learn the tools of the caddy profession in America, the senior Snyder travels to St. Andrews where he toils on the links of the shrine of golf and leads a monastic existence to sustain his dream. Son Jack competes as a collegiate golfer and eventually joins one of the satellite professional tours. The dream of having his father on his bag is accomplished, but only after substantial emotional trauma. WALKING WITH JACK is a compelling story of a father and son, as well as an interesting account of the golfing life in St. Andrews. To some degree, that portion of the book swallows the father-son saga, but does so in a good way. There is much to enjoy in this entertaining golf chronicle.
---
While John Dunn followed a career path similar to Don Snyder, his decision to become a caddie came from his experience in college working in Aspen, Colorado. LOOPERS: A Caddie's Twenty-Year Golf Odyssey is Dunn's story of his 20-year career as a club caddie, working at different locales for various clients in golf venues around the world. The title of the book is easily recognizable to any fan of the movie Caddyshack. In the film, Bill Murray plays Carl Spackler, who recounts to the young caddies at Bushwood Country Club how he "got on as a looper at a course over in the Himalayas." Many golfers refer to an 18-hole round of golf as a "loop." Working as a caddie, Dunn heard many older guys claim they were familiar with the term before the movie. But even if it existed pre-Caddyshack, Murray is definitely the reason it caught on. Knowing a half-dozen quotes from the film is basically a caddie job requirement.
Dunn travelled the world shouldering golf bags for strangers at a variety of golf venues, some exclusive and easily identified by any golfer, some not so well known. His was not the glamorous job of carrying the bag of a Tiger Woods, Phil Mickelson, or any other tour pro. Dunn toiled in obscurity, simply carrying the bags of those non-professionals enjoying a round of golf at facilities that had the ability to employ caddies. Golf nurtured his appreciation of silence and solitude, and planted the seeds that would eventually blossom into a full-blown wanderlust. Caddying made it possible for him to play the finest golf courses of the world in the off hours when the members had gone home. Along the way, Dunn drops the names of celebrities Joe Pesci, Will Smith and Bernie Madoff. He also has several experiences with regular golfers --- some nice, some not so nice. But for him, it makes little difference because "looping" is simply a means for him to have quiet time on the course.
Underlying the tale of his career as a golf vagabond is Dunn's conflict with his father, who cannot understand his career choice. Eventually they come to some closure on the career debate. But it comes with a price for Dunn as he returns to his home in Connecticut to be with his dad in the final days of his life.
---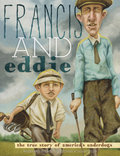 The caddie is a unique part of golf. Some on the PGA Tour are better known than many players. The travails of Tiger Woods's caddies have been fodder for national news. In 1913, a Massachusetts amateur golfer, Francis Ouimet, shocked the golfing world by defeating British golfers Harry Vardon and Ted Ray in a playoff at Brookline Country Club. Many golf historians credit Ouimet's victory with the birth of American golf. The story of this stunning result was chronicled in 2002 by Mark Frost in THE GREATEST GAME EVER PLAYED.

Author Brad Herzog and illustrator Zachary Pullen have created a wonderful children's book, FRANCIS AND EDDIE: The True Story of America's Underdogs, that introduces young readers to the story of Ouimet's triumph and the diminutive schoolboy who carried his bag. Ouimet had arranged for Jack Lowery to caddie for him at the Open. Ten minutes before qualifying was to begin, Jack was nowhere to be found because his truant officer forced him to attend school. Instead, Eddie, Jack's younger brother, only four feet tall, volunteered to carry the bag. Ouimet was reluctant to accept little Eddie as his caddie but had no viable alternative. With Eddie on the bag, the Ouimet-Lowery combination captured the Open championship. Their friendship, forged in the four rounds plus 18-hole playoff of the Open, would continue for the rest of their lives. The Ouimet Scholarship Fund honors a person chosen as the top caddie of the year, and the winner receives the Eddie Lowery Award.
The illustrations in FRANCIS AND EDDIE are extremely well done and capture a portrait of a golf era long forgotten. The text is perfect for a father or grandfather to share with a young reader. It is rare that golf is the subject of a story for young readers, and even more unique that it encompasses an important event in sports history. FRANCIS AND EDDIE is a wonderful Father's Day gift for generations to share.
---
The golf journey book has become somewhat de rigueur. Every few years, golfers who also are writers take off on a golfing journey. Think of it as John Steinbeck's TRAVELS WITH CHARLEY meeting Michael Murphy's GOLF IN THE KINGDOM. Dylan Dethier's 18 IN AMERICA: A Young Golfer's Epic Journey to Find the Essence of the Game has a unique twist on the golf journey because the author took his great American golf trip as a high school graduation present. The Massachusetts youth who was enrolled at Williams College somehow convinced his family that at age 18, a visit to each of the lower 48 states would be a wonderful reason to delay his entrance into college. So he loaded his Subaru station wagon and began his travels, experiencing golf in a wide range of venues with an equally wide array of golfers. Any golfer who has ever headed to a golf course and uttered the words "I'm a single" to the starter knows exactly what Dethier experienced. Most of us lack the ability to put that adventure in words, and all of us probably are unwilling to experience sleeping in the back of a Subaru and showering at truck stops as part of the adventure.
18 IN AMERICA is an entertaining yet somewhat incomplete book. Perhaps it is my age and my notion of what a golfing journey should encompass. Much of it is an enjoyable visit to golf in America and the eclectic characters one can find on almost any golf course. Dethier might have benefited from just a bit more seasoning and life experience before undertaking his golfing travels. Maybe age is finally catching up with me, but I found it difficult to relate to many of his adventures.
---
Through the years, golf instruction books have undergone major changes. For many years, instructional books were little more than reprints of lessons from golf magazines. Now, golf instructors share their thoughts and theories in full-length books that form a substantial part of any golf book collection. Haney, Leadbetter and Harmon are a few of the instructors who are just as recognized as the golfers they shepherd. Reading instructional books requires the correct mindset because no single one will make you a great golfer. As I read any book that promises to make me a scratch golfer, I hold no such hope. Instead, I try to find one or two individual nuggets of instructional gold. I am more than satisfied to come across one hint that will help improve my game even slightly.
Gio Valiante is a professor and mental game consultant for many PGA Tour players. Masters champion Adam Scott, Justin Rose and Matt Kuchar are three of his successful tour players, and Nick Faldo has written the foreword to GOLF FLOW: Master Your Mind, Master the Course, an instructional book that provides important insight into both the mental and physical aspects of the game. Valiante believes that golfers often look to physical problems with their game because they are comfortable in making those adjustments, but neglect to deal with attitude and mindset, which is often where the solution to problems with their game can be found. Golfers need to approach the sport in a positive, worry-free state in which the sole focus is to master the moment, enjoy the process, and concentrate on playing fearlessly and freely. Along the way, there are some interesting notions of improving your game. Since most of us cannot devote to doing this full-time, the question often becomes this: Should we spend time on the driving range or on the golf course? Valiante believes that if your time is limited, you should be on the course because it allows you to spend time developing the skills that lead to flow. If you have time to practice, you should focus on the short game, where improvement really matters.
Reading HOW TO MAKE EVERY PUTT: The Secret to Winning Golf's Game Within the Game by Dr. Joseph Parent brought to mind the famous quotation of noted golfer Bill Clinton: "It all depends on what the definition of the word 'is' is." Making a putt does not mean the ball is going in the hole. That is holing a putt. Making a putt means "The ball starting out on the line you chose, at the speed you wanted, with what you felt was a good stroke." If you roll the ball the way you intended, you made your putt. Golfers should focus on the process and let the results take care of themselves. HOW TO MAKE EVERY PUTT is organized into chapters that discuss how to read greens, getting the correct speed, making the "knee-knockers" and confronting the "yips." The book takes advantage of technology, allowing readers to download applications and view videos. By focusing on Parent's observations, golfers can find improvement in their putting game, the easiest area of the game to cut strokes.
---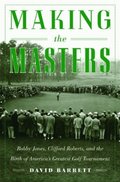 This past April, I was fortunate to make my second visit to Augusta National, the home of the Masters and one of the shrines of golf. The history of Augusta's creation is an oft-told story. After winning what was then the Grand Slam of golf --- victories in the U.S. and British Opens and Amateurs in the same season --- Jones retired from competitive golf. He then undertook the construction of a golf course in his native Georgia and established a tournament that would bring professional and amateur golfers to the course in the early spring. From that modest beginning has come the Masters, a major golf championship unique in so many aspects that it truly stands alone as a golfing event.

While there are many outstanding books about Jones, Augusta and the tournament, MAKING THE MASTERS: Bobby Jones and the Birth of America's Greatest Golf Tournament by David Barrett is a worthy edition to the Masters story. Barrett focuses on the early years and only the first two tournaments. Constructing a course to meet the exacting demands of the world's greatest golfer during the Depression was not an easy task. Jones was not wealthy and needed the financial assistance of those who would eventually become members of Augusta National. Jones and Clifford Roberts financed Augusta on a shoestring, and the early years found them one or two steps ahead of their creditors.
Watching the Masters today, it is remarkable to ponder how close Jones and Roberts came to failure. While the Open Championships of Britain and America have longer histories, they lack the iconic status of the Masters. Barrett has written an entertaining and informative history of this tournament and how Bobby Jones's dream of a course and a tournament became a reality.
--- Reviewed by Stuart Shiffman