Summer Golf Reading for 2014
Golf Books
Summer Golf Reading for 2014
While I do not recall the precise year that the annual Summer Golf Essay first appeared on Bookreporter.com, I do know that it was during a time when the world golf industry was experiencing great success. The professional golf tour in America had events that extended the season past Thanksgiving. Golf had its own cable channel with 24-hour, seven-days-a-week coverage. A youthful Tiger Woods in association with Nike had taken the sporting clothing and equipment industries by storm. Across America and the world, golf courses and communities were growing at a rapid rate. The world seemed infatuated by the game.
Things are not so magnificent for the golfing world in 2014. Several years ago, as the economy faltered, many golf communities could no longer sell golf homes or club memberships. Unused residential lots dot many courses in Florida and Arizona. Construction of new courses has reached a standstill. Recently, articles appeared in golf publications and the New York Times suggesting that actions needed to be taken to make the sport more popular. Suggestions abounded, including allowing golfers to play less than a traditional nine- or 18-hole round and making the game faster and easier. None of these suggestions recognized that golf simply has become too expensive for many potential players.
Perhaps most importantly, Tiger Woods, the youthful fan favorite, has become a middle-aged golfer with both personal and physical issues that presently find him off the PGA Tour. Right now golf is searching for the next Tiger, and while there are several candidates, no one has secured the nomination.
Despite these difficulties, golf remains a popular subject for the book industry. From April through June, many interesting golf books are published, falling into two main categories: golf history and improving your game. This spring has seen several books that offer wonderful reading for those golfers with the inclination to learn more about the game they play and enjoy.
---
Unlike any other sport, the golf course can sometimes be more significant than the players themselves. While certain sports venues such as Fenway Park, Churchill Downs and the Indianapolis Motor Speedway are iconic locales, they are far different from golf courses. With very few exceptions, golfers can watch a tournament and then, at a future date, play that very course. Or they already may have played the course that is the site of the event they are viewing. The PGA Tour has made an industry of constructing golf courses that host professional tournaments one week out of the year and allow the public to play the course every other week. Golf course architects and their designs are well-known to most golfers. Alister Mackenzie gave the world Augusta National and Donald Ross gave us Pinehurst.
A DIFFICULT PAR: Robert Trent Jones Sr. and the Making of Modern Golf by James R. Hansen is actually the story of a golf design family. Robert Trent Jones Sr., the patriarch of the family, struggled to design courses during the Depression years. His two sons, Robert Trent Jones Jr. and Rees Jones, would work in later years with their father but eventually go their separate ways.
The senior Jones never completed high school, but his early work as a golf professional provided him with important contacts that allowed him to participate in a self-structured golf course design program at Cornell University. For a major part of his career, Jones worked for the United States Golf Association and earned the title of "Open Doctor." After a golf course was awarded the U.S. Open, Jones would make substantial design changes to allow the course to be worthy of hosting an Open. This often undid the work of renowned course architects, offending some golf purists, but Jones did not seem to be bothered.
Hansen has written an authoritative biography of the Jones design family. The sons often battled for their father's affection, as well as for recognition of their own individual skills as course designers. Eventually, there would be a bitter family dispute over the company, with the wounds from that conflict still present today. A DIFFICULT PAR is not only an interesting history of a major contributor to golf course design, it is also an informative discussion of Jones's theories and practice of course architecture that golfers may find helpful in improving their game. Understanding what an architect has in mind as he builds a course can help most players decide how to attack it.
---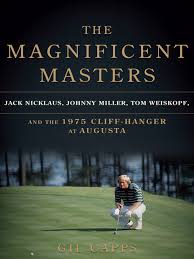 This weekend in June marks the U.S. Open broadcast on NBC Television and the Golf Channel. Anyone who has watched the network's coverage is familiar with the announcing of U.S. Open champion Johnny Miller, but most viewers are unaware that behind the scenes golf researcher Gil Capps provides Miller with a great deal of background material. Capps supports the on-camera announcers as scorer, statistician, researcher and editorial advisor --- an important golf contributor who no one knows. But once fans read THE MAGNIFICENT MASTERS: Jack Nicklaus, Johnny Miller, Tom Weiskopf, and the 1975 Cliffhanger at Augusta, Capps will no longer be a stranger. It is not difficult to write about a sports event; indeed, writers do it on a daily basis. But a great book about a long-ago sports event must tell more than what happened --- it needs to capture the moment in time and place it in its historical sports context. Capps has accomplished that goal, and even knowing the outcome of that year's Masters, I found his account a page-turning thriller.
The 1975 Masters was notable for the participation of the first African-American golfer, Lee Elder, in the tournament, which alone made this a transformative tournament. The victory for Nicklaus would be the 15th of his 18 major championship wins. Miller would shoot 65 and 66 in the last two rounds and Weiskopf 66 and 70. The golfers battled down the final holes with Nicklaus emerging victorious. For Weiskopf, it was his fourth second-place finish in the Masters, and he never would secure victory in the one tournament he most desperately wanted to win. Miller would finish second three times and also never would be victorious at Augusta. Nicklaus, of course, has won more Masters than any golfer. Many golf writers believe that the 1975 Masters, with its incredible battle on the final holes, is the greatest tournament ever. Capps tells the story in a fascinating manner, and golf fans certainly will hope that he continues to chronicle the game.
---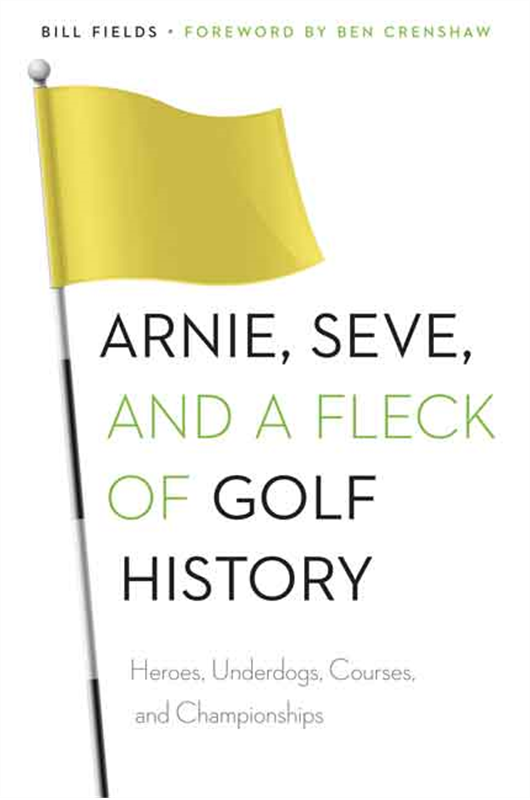 On March 21, 2014, Jack Fleck died at the age of 93. For those familiar with golf history, Fleck's name is synonymous with one of the greatest upsets in sports history. In 1955, Fleck, a driving range pro, defeated Ben Hogan, the greatest golfer in the world, in a playoff for the U.S. Open Championship. Much has been written of Fleck and Hogan. Bill Fields, a senior editor at Golf World magazine, included his 1995 article on Fleck in his collection, ARNIE, SEVE, AND A FLECK OF GOLF HISTORY, an endearing compendium of articles and stories touching on golf history during the past century. Fields's writing captures the finer details of golf from the story of Johnny McDermott, the first American-born U.S. Open champion, to the sad saga of Bert Yancey, who battled depression throughout his golfing career until his death at age 56. All of the great figures in golf history are covered: Arnold Palmer, Sam Snead, Mickey Wright and, of course, Tiger Woods. Fields speculates on whether Woods will achieve the one goal left on his "to-do" list: passing Nicklaus's 18 career major championships.
These are wonderful brief golf vignettes, each article several pages in length, capturing the essence of the game, an individual struggle that can exist on many levels --- whether battling to win the U.S. Open or struggling to break 90. That individual struggle is what makes golf such a magical game.
---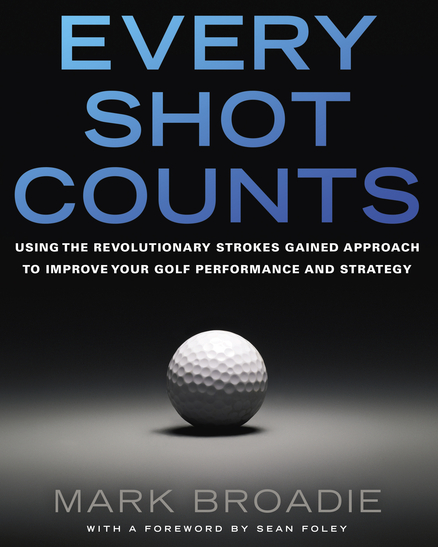 One of my all-time favorite comic strips is the Peanuts cartoon where Lucy, the statistician for Charlie Brown's hapless baseball team, reports on the various statistics for the squad. After a long list of abysmal numbers, the final panel has Charlie saying, "Lucy, tell your statistics to shut up." In sports today, there is an ongoing debate regarding the meaning of numbers. Baseball is experiencing that debate in the battle between baseball traditionalists and the new wave of Sabermetricians, who empirically analyze data to provide objective answers to specific baseball questions. A form of Sabermetrics seems to be coming to golf.
EVERY SHOT COUNTS: Using the Revolutionary Strokes Gained Approach to Improve Your Golf Performance and Strategy by Mark Broadie suggests that traditional analysis of golf scoring needs an update. Broadie, the Carson Family Professor of Business at Columbia Business School, has written numerous papers on strokes-gained research that challenges the conventional wisdom of how golfers win. Broadie's research downplays the significance of putting as the key to victory in professional tournaments. His first chapter begins with the simple assertion that putting is overrated; instead, he maintains that driving and long-iron play are as important as putting. The Broadie approach calls for golfers to be more aggressive and to make every effort to get on the green as quickly as possible.
While the new theories are provocative as well as interesting, I am uncertain that they carry equal weight with all golfing skills. A golfer of my skill level, for example, cannot achieve extra distance sufficient to apply Broadie's theory to his game. Furthermore, there are too many variables in swings and skill levels. Still, I have always believed in the theory that if I can take one small tip from an instructional book, then it is worth reading. Broadie thinks golfers should be more aggressive, and I am willing to give it a try.
---
If Broadie represents the new wave of golf teaching, then Dave Stockton is emblematic of one who espouses more traditional theories of improving the golf game. Stockton is a well-known and respected golfer and teacher who has won two PGA Championships, 11 tour championships and 14 Champions Tour events. He captained the US Ryder Cup Team in 1991 and has long been considered one of the best putters in professional golf. In OWN YOUR GAME: How to Use Your Mind to Play Winning Golf, Stockton is laid back and focuses his teaching on what Bobby Jones called the five-and-a-half-inch golf course, the space between your ears. He shows players how to think better, stay calmer, execute more consistently, and, most importantly, enjoy the game. The book is full of anecdotes and Stockton's experience. For the price of OWN YOUR GAME, an easy and enjoyable read, readers can experience what they would hear at a Stockton corporate golf outing.
---
Several years ago, while watching a tournament on television, Arnold Palmer spoke of going to an exercise instructor to increase his flexibility. The instructor was Roger Fredericks, and his flexibility training is available on DVD. Several days later, my newly purchased copy of the DVD arrived in the mail, and on a fairly regular basis, I use the instruction for about 20 minutes of stretching. I believe it has helped my golf game. Now those teachings are available in book format in THE FLEXIBLE GOLF SWING, a valuable companion to the DVD. Fredericks goes beyond flexibility exercises to discuss the golf swing and make it clear that there is no single way to swing a golf club. He also includes a series of exercises directed to specific swing flaws, while photographs of exercises and drills fill the pages. Increasing your range of motion adds distance to your shots. Increasing your flexibility and improving your posture help you battle the fatigue that sometimes strikes in the last few holes of a round. Golfers often wonder why their potential career rounds fall apart on the final few holes. More than any other reason, they simply may be tired. Getting yourself in better physical golfing shape regardless of your age may do more to lower your handicap than hours on the practice tee.


--- Compiled and written by Stuart Shiffman