Laura Ingalls Wilder Award 2011
Awards
Laura Ingalls Wilder Award 2011
The Laura Ingalls Wilder Award, established in 1954, honors an author or illustrator whose books are published in the U.S. and have, over a period of years, made a substantial and lasting contribution to literature for children. The award is named in honor of Laura Ingalls Wilder, author of the popular Little House series of books, which later became the basis for a television series. Wilder's first book, LITTLE HOUSE IN THE BIG WOODS (1932), was published when she was 65, and she received the first award in 1954.
Between 1960 and 1980, the Wilder Award was given every five years. From 1980 to 2001, it was awarded every three years. Beginning in 2001, it has been awarded every two years.
---
2011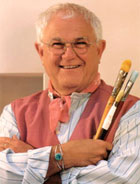 Author/illustrator Tomie dePaola is the winner of the 2011 Laura Ingalls Wilder Award honoring an author or illustrator, published in the United States, whose books have made a substantial and lasting contribution to literature for children.
dePaola was born in Meriden, Connecticut on September 15, 1934. He received a BFA in Art Education from Pratt Institute in Brooklyn, NY, in 1956, and an MFA from the California College of Arts and Crafts in Oakland, California in 1969. In a career that spans more than 45 years, he has created over 200 books for children and continues to write and illustrate today. He currently lives in New London, N.H.
His award-winning works include 26 FAIRMONT AVENUE, which received a Newbery Honor in 2000; STREGA NONA, recipient of a Caldecott Honor in 1976; and many others. In addition, he has received the Kerlan Award (Kerlan Collection, University of Minnesota, 1981), Regina Medal (Catholic Library Association, 1983), James Smithson Bicentennial Medal (Smithsonian Institution, 1990), the Living Treasure Award (Governor's Arts Awards, State of New Hampshire, 1999), and was one of two nominees of the United States Board on Books for Young People (USBBY) for the international Hans Christian Andersen Award (1990).
dePaola's books range from autobiographical stories to retellings of folktales and legends to original tales and stories. His works reflect an innate understanding of childhood, a distinctive visual style, and a remarkable ability to adapt his voice to perfectly suit the story. With books that are often humorous --- sometimes quietly, sometimes outrageously --- and almost always contain a strong emotional core, dePaola has made a contribution to children's literature that is broad, deep and lasting.
One of dePaola's best known books is STREGA NONA, the first in a series of original tales featuring the irrepressible and wise "Grandma Witch." It demonstrates the blending of dePaola's recognizable and welcoming visual elements with his astute narrative sensibility. The brilliantly balanced words and pictures depict the mayhem that ensues when Big Anthony doesn't pay attention to Strega Nona, and introduce an enduring character who has charmed generations of children.