About the Book
About the Book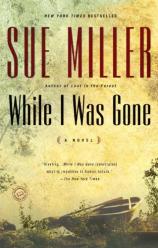 The questions, discussion topics, and author biography that follow are intended to enhance your group's reading of Sue Miller's While I Was Gone.We hope they will aid your understanding of the many themes and issues that underlie Miller's powerfully moving story of a middle-aged woman who, drawn by the currents of passion, grief, and nostalgia, puts at risk everything she has always held dear.
Joey Becker is a fifty-two year-old veterinarian, happily married for twenty-five years to Daniel, a devoted small-town minister, and the mother of three beloved daughters. She has almost forgotten the old self she left behind when she married Daniel, a lost and fearful girl who, back in the Sixties, found what she thought was a safe haven in a commune full of bright and idealistic young people like herself.
Violent death had ended that idyll; now, thirty years, later, one of the Joey's old housemate comes back into her life and reawakens her memories of youth, of infinite possibility, of freedom. Torn by conflicting emotions, Joey is forced to examine her past and the new life she has made for herself, and to radically rethink her old ideas about love, family, work, and the heartbreaking process of growing old and letting go.
While I Was Gone
by Sue Miller
Publication Date: August 7, 2012
Genres: Fiction
Paperback: 304 pages
Publisher: Ballantine Books
ISBN-10: 0345443284
ISBN-13: 9780345443281