About the Book
About the Book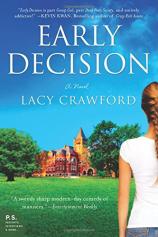 In EARLY DECISION, debut novelist Lacy Crawford draws on 15 years of experience traveling the world as a highly sought-after private college counselor to illuminate the madness of college admissions.
Working one-on-one with Tiger-mothered, burned-out kids, Anne "the application whisperer" can make Harvard a reality. EARLY DECISION follows five students over one autumn as Anne helps them craft their college essays, cram for the SATs, and perfect the Common Application. It seems their entire future is on the line --- and it is. Though not because of Princeton and Yale. It's because the process, warped as it is by money, connections, competition and parental mania, threatens to crush their independence just as adulthood begins.
Whether you want to get in or just get out, with wit and heart, EARLY DECISION explodes the secrets of the college admissions race.
Early Decision
by Lacy Crawford
Publication Date: August 26, 2014
Genres: Fiction
Paperback: 320 pages
Publisher: William Morrow Paperbacks
ISBN-10: 0062240692
ISBN-13: 9780062240699