About the Book
About the Book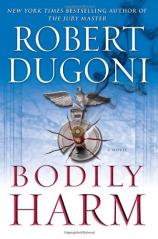 New York Times bestselling author Robert Dugoni
delivers his most exhilarating thriller to date with BODILY HARM, a
pulse-pounding story of corporate greed, espionage, and the lengths
to which one man is willing to go for justice. When parents lose
their six-year-old son to an esteemed pediatrician's seeming
negligence, they turn to Seattle attorney David Sloane for
justice.
In his return as "the lawyer who does not lose,"
Sloane is on the verge of another victory, but something about the
malpractice case has bothered him from the start. His uneasiness
grows when toy designer Kyle Horgan confronts him on the way to the
verdict to claim responsibility not only for the child's
death, but also for the fate of a second young boy in central
Washington.
When the toy designer vanishes, leaving behind only a ransacked
apartment, Sloane teams up with his longtime investigative partner
(and former CIA operative) Charles Jenkins to reexamine the deaths
and dig deeper into Horgan's claims. They are forced to enter
the cutthroat world of toy manufacturing --- where hundreds of
millions of dollars are staked on finding the next "It"
product. Sloane must dodge a vicious and calculating killer,
exonerate the doctor, and overcome a devastating personal loss that
nearly destroys him --- all while keeping in check his overwhelming
desire for revenge.
BODILY HARM © Copyright 2010 by Robert Dugoni. Reprinted
with permission by Touchstone. All rights reserved.