Excerpt
Excerpt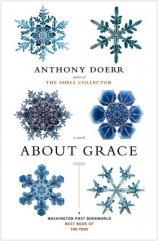 Chapter 1
He made his way through the concourse and stopped by a window to watch a man with two orange wands wave a jet into its gate. Above the tarmac the sky was faultless, that relentless tropic blue he had never quite gotten used to. At the horizon, clouds had piled up: cumulus congestus, a sign of some disturbance traveling along out there, over the sea.
The slim frame of a metal detector awaited its line of tourists. In the lounge: duty-free rum, birds of paradise sleeved in cellophane, necklaces made from shells. From his shirt pocket he produced a notepad and a pen.
The human brain, he wrote, is seventy-five percent water. Our cells are little more than sacs in which to carry water. When we die it spills from us into the ground and air and into the stomachs of animals and is contained again in something else. The properties of liquid water are this: it holds its temperature longer than air; it is adhering and elastic; it is perpetually in motion. These are the tenets of hydrology; these are the things one should know if one is to know oneself.
He passed through the gate. On the boarding stairs, almost to the jet, a feeling like choking rose in his throat. He clenched his duffel and clung to the rail. A line of birds -- ground doves, perhaps -- were landing one by one in a patch of mown grass on the far side of the runway. The passengers behind him shifted restlessly. A flight attendant wrung her hands, reached for him, and escorted him into the cabin.
The sensation of the plane accelerating and rising was like entering a vivid and perilous dream. He braced his forehead against the window. The ocean widened below the wing; the horizon tilted, then plunged. The plane banked and the island reemerged, lush and sudden, fringed by reef. For an instant, in the crater of Soufriere, he could see a pearly green sheet of water. Then the clouds closed, and the island was gone.
The woman in the seat next to him had produced a novel and was beginning to read. The airplane climbed the troposphere. Tiny fronds of frost were growing on the inner pane of the window. Behind them the sky was dazzling and cold. He blinked and wiped his glasses with his sleeve. They were climbing into the sun.
About Grace
by by Anthony Doerr
Genres: Fiction
paperback: 416 pages
Publisher: Penguin (Non-Classics)
ISBN-10: 0143036165
ISBN-13: 9780143036166