About the Book
About the Book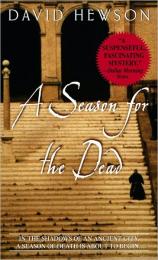 In a hushed Vatican reading room, the scene was shocking: a crazed professor shot dead after brandishing evidence of a grisly crime. Moments later, two bodies are found in a nearby church, each with a gruesome calling card from the killer. Thus begins David Hewson's elegant and electrifying new novel. Set amidst a bizarre killing spree in modern Rome, it is a bewitching blend of history and drama, sensuality and suspense.
As the August heat takes Rome in its fiery grip, the news of two brutal murders holds the city in thrall. And as the media gathers and Vatican officials close ranks, a young detective is sent to the forefront of the case. Nic Costa is the son of an infamous Italian Communist, a connoisseur of Caravaggio , and a cop who barely looks his 27 years of age. Thrust into the heart of a killing spree that will rattle his city down to its ancient bones, Nic meets a woman who will soon dominate both his consciousness and his investigation.
A cool, beautiful professor of early Christianity, Sara Farnese was in the Vatican library on that fateful day, a witness to her colleague's strange outburst and death. But her role will become even more puzzling as more bodies are found: Each victim killed in a gory tableau of Christian martyrdom. And each victim had intimately known Sara, whose silence Costa cannot quite crack and whose carnal history becomes more lurid and unfathomable with every revelation.
Soon, a nightmarish chase is implicating politicians and priests -- while at the heart of the matter remains the woman Costa is both investigating and guarding. Wanting to believe in Sara's innocence, Nic still cannot turn his eyes from the truths he is uncovering. Even as the secrets of a woman, a killer and a city begin to unravel...with devastating consequences.
A beguiling mystery, a dazzling treat for the senses, and a fascinating tour of the streets and alleyways of Rome, Nic Costa's relentlessly suspenseful debut is a masterpiece of suspense fiction.
A Season for the Dead
by David Hewson
Publication Date: December 28, 2004
Genres: Suspense
Mass Market Paperback: 496 pages
Publisher: Dell
ISBN-10: 0440242118
ISBN-13: 9780440242116