Readers' Comments for Please Don't Tell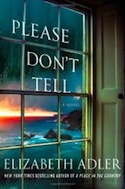 In June, a select group of readers who participated in one of our Suspense/Thriller Author Spotlights won copies of PLEASE DON'T TELL by Elizabeth Adler. The novel introduces us to Fen Dexter, whose quiet life on the idyllic California coast is interrupted one stormy night when a blood-covered man shows up on her doorstep, claiming to have had a car accident. He tells her that he is on his way to San Francisco to help the police solve the murder of his fiancée. Who is this mysterious stranger? What does he want with Fen and her family? And will they live long enough to uncover the truth? Take a look at some of the readers' comments for more insight into the story --- and be sure to watch out for spoilers!
We thank all of those who participated in this promotion. For those of you who would like to read this novel, PLEASE DON'T TELL is now in stores.
Bob
The book was obviously well written, as would be expected of a New York Times bestselling author. Actually it was a great weekend diversion from doing yard work and I enjoyed it a great deal --- even though it is most likely directed more to women readers. I thought the main characters were extremely well developed, to the point that as a reader, I had almost a connection to them --- that even includes the two dogs --- and they made the story even more enjoyable. Although the author tried to include a red herring or two, I thought the bad guy was pretty predictable. Of course, I can only say that because I guessed who he was when he was first introduced into the story --- quite often my guesses are totally wrong!! Perhaps, I've read too many Agatha Christie novels. I would certainly recommend the book to anyone who enjoys reading. It was a thoroughly enjoyable book --- not serious, but not a waste of time, either.
Norma
PLEASE DON'T TELL is a perfect book to read on the beach. Most reviews praise Adler's female characters, but I think the male characters are just as interesting. It's a pleasure to see a younger man infatuated with a middle-aged woman and a cop madly in love with his wife, even after a few children and a terrible mother-in-law --- most women would love to meet a man like Brad Merlin. Even after figuring out who the murderer is, by the middle of the book, Adler's storytelling continues to hold your interest until the end. She maintains a good sense of tension. I think this book would appeal to most women who are looking for light entertainment.
Patrick
This was a very pleasant read. The main characters were well written, and one was drawn to them. The plot moved pretty well for much of the story, but I felt that the end failed to maintain the tension that should have been there. In addition, I made the connection to who the "bad" guy was very early on. It probably should have been a little bit more difficult. I do not think this book should be recommended to those readers who enjoy suspense and high energy. It will appeal to those who want something warmer and maybe less stressful.

Jannet
It was a good suspense/thriller, but I did not think the women characters were very believable. I found Fen Dexter to be a weak woman.

Bev
I finished PLEASE DON'T TELL. This was my first read by this author. I did enjoy the book, but thought it was very predictable. However, good characters and a bit of fun and romance thrown into the suspense made it worth the read. Her writing is very simple, which makes for a quick read. I'm happy to have had the opportunity to read it. I would give it "almost" four stars.
Belinda
PLEASE DON'T TELL was just okay. It started off good, but then the killer was identified. I found the characters too predictable and the ending was wrapped up very suddenly.
Paula
I recently read PLEASE DONT TELL by Elizabeth Adler. I was not a huge fan of the book. Although it did keep my attention, it was predictable to me. I felt like I had read parts of the book in other books.
I did like the romance in the book, and also the character of Fen. I did think it was an easy read, so I would recommend it to other people for that reason, but if you wanted a deep mystery/thriller --- I don't think this fits the bill. I was pleased with the flow of the book and the pace as I think that is very important in a book.