Readers' Comments for Eye For An Eye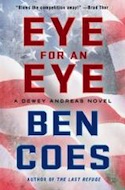 In June, a select group of readers who participated in one of our Suspense/Thriller Author Spotlights won copies of EYE FOR AN EYE by Ben Coes. The story follows Dewey Andreas, whose discovery of the identity of a mole embedded at a high level in Israel's Mossad triggers a larger, more dangerous plot. The mole was the most important asset of Chinese Intelligence, and Fao Bhang, head of China's Ministry of State Security (MSS), responds to the discovery and brutal elimination of the mole, by immediately placing a kill order on the man responsible --- Dewey Andreas. Can't wait to find out what happens next? Take a look at some of the readers' comments to give you more insight into the story --- and be sure to watch out for spoilers!
We thank all of those who participated in this promotion. For those of you who would like to read this novel, EYE FOR AN EYE is available in stores.
Jeanette
Although I love thrillers, I am not fond of excessive blood and killing. The author pulled me into the book immediately and I ignored the violence. The story with the surrounding political detail was fascinating and made me think some "what if" thoughts regarding the US monetary relationship with China. EYE FOR AN EYE did keep me up several nights, which is something I like in a good story. I am eager to share this book with others in my book club.

Bob
I was pleasantly surprised by EYE FOR AN EYE. I almost set it down when I saw the connections to George H. W. Bush (who gave the commencement address at my 1982 college graduation), Reagan and Romney. I wasn't ready for a right-wing Rush Limbaugh style propaganda piece.
Well, I was pre-judging the book and I'm glad I invested the time for the first two chapters. I really enjoyed this book. I was not familiar with the Dewey Andreas series, but I don't think that interfered with my ability to engage in this novel. I groaned a bit when I learned the China connection (thereby combining George H. W. Bush, Reagan, Romney and Nixon/Kissinger) but like I said, I kept an open mind and focused on the narrative.
This was an intelligent story. I'm fascinated by the Mossad after their debacle a few years ago. I really enjoyed this book --- I plan to get the earlier books from the library. I'll recommend this book to my friends who aren't as liberal/progressive as I. I'll tell them it's an intelligent James Bond type story with a strong basis in accurate recent history.
Joyce
I could not put EYE FOR AN EYE down. All activity in my home ceased until I finished this masterpiece. This is the first book I've read by Coes, and I will definitely read his others hoping to not be disappointed. I can see this book made into a successful thriller movie.

Marsha
Wow! I am blown away by this series. I have at least a dozen friends who thrive on this genre and to my knowledge none have mentioned Ben Coes. They will be excited by this author. It is exceptionally well written and engrossing to the last page. I am usually skeptical of blurbs on the cover written by authors of the same publisher, but this time I thoroughly agree with Brad Thor's "Blows the competition away". I couldn't have put it better myself. I am headed to the bookstore for more of this series.

Eunice
I really enjoyed this book. There was a lot of action and suspense. Dewey is an exciting hero, flaws and all. This is the first Ben Coes book I've read and won't be the last.


Colleen
It took me about a week to finish EYE FOR AN EYE and I have to say it is by far my favorite in his series. This book was non-stop action from cover to cover and did not leave any down time. I really like that about Coes. I like that he doesn't repeat the same book over and over and that each book is truly unique. I'm a sucker for a good revenge story so I knew this would be right up my alley. I love the hidden meaning of the title. I can't wait for his next book.

Susanne
I just finished reading EYE FOR AN EYE and I was pleasantly surprised. I really did enjoy it even though at times I was a little confused with the plot. I don't usually like international spy thrillers, but I thought the characters were very believable. Because the characters were so well-developed, I stuck with the book and ended up giving it a definite thumbs up.

Mitch
I have not read any of Ben Coes' previous novels and I wasn't sure what to expect, especially with a protagonist named Dewey --- a rather unorthodox choice given his profession. A couple of plot twists were predictable and I noticed a few minor typos along the way, but overall I really enjoyed the book. It's less James Bond and more straight-up action/thriller in a way that's rather refreshing.
The action was nonstop and the author's style of writing kept me engaged the entire time. Vivid descriptions and a plethora of information made everything seem that much more realistic and believable. It got me thinking about whether or not the Chinese government (or ours, for that matter) really is as technically advanced in their spying as Mr. Coes depicts them to be. The surprisingly short chapters and constant changes of pace made the 422 pages read like a much smaller book. Mr. Coes certainly knows how and where to inject subtle humor --- not an easy feat given the overall nature of the storyline.
Due to the graphic descriptions of the nearly non-stop violence, I can't see this one on too many women's reading lists. However, guys will be certain to enjoy it. The character name and book synopsis had me a little concerned that the book was going to be heavy on the clichés --- I found that to be untrue.

Melanie
Thrillers and suspense novels are not my genre of choice. I don't think I've read a book like this since THE BOURNE IDENTITY first came out! (I thought the suspense/thriller book might be along the line of GONE GIRL or THE LINCOLN LAWYER...) I nearly stopped reading after, in the first 25 pages, someone gets an axe to the scull and his corpse gets delivered to a little girl's birthday party in a Louis Vuitton trunk!!
This is why I don't go to violent movies with my husband; I make him go with one of the boys. But, I have to say I kept going and found myself surprisingly engaged in the story! I actually looked forward to reading it and wanted to know what would happen next. The complexity of the story was truly engaging and so well thought out. It's scary to think that these things probably really do go on covertly all the time. As I read the book, I could visualize the story happening on the big screen. I think it would make a terrific movie for those who like that type of thing.
I do feel this is more of a "guys" book and would probably not recommend it to my girlfriends. However, I would definitely recommend it to my male friends.
Sharon
It was an intriguing and thrilling book with twist and turns that kept me in suspense from start to finish. I definitely will be recommending it to people I know as a remarkable, interesting and fast-paced read.

Henry
This novel grabs you from the first page and is very difficult to put down. Ben Coes has written a terrific story with compelling characters, international intrigue and action packed at a relentless pace. Dewey Andreas, after the murder of his fiancée, sets out to seek his revenge. After he learns who is responsible, he focuses all his assets as a former Army Ranger and Delta Force member toward his objective. Details throughout the book have an authentic ring. I recommend this book to everyone who enjoys thrillers written by Vince Flynn, Brad Thor or Brad Taylor. Dewey Andreas is a hero equal to Mitch Rapp, Scot Harvath and Logan Pike.
Dave
I really enjoyed this suspense/thriller book. The plot line and characters were interesting to follow and while I really wanted to skip to the end to see if Dewey stayed alive, I didn't. The plot was a timeline, but the events transpired in different cities and countries around the world. As I got to know the characters, I could understand the development of the story and it kept my interest. I could understand the sadness and anger of Dewey's when he lost his love and his resolve to balance the scorecard.
I found the background technology to be really current and quite possible in the secret world of spies. The final sections included some drama like the current TV program "Face Off." I won't say how, but it was an interesting twist. I would recommend this book to folks who like suspense and drama in a storyline. It was a great read.

Anna
I have never, ever read a thriller, at least not like this one. EYE FOR AN EYE by Ben Coes frightened the heck out of me! Does this stuff really go on like I suspect it does? How does the author live with this in his head? And how do I review it without giving away too much?

Let me tell you that there is a different world out there --- just turn these pages. Very rapid action, a staccato pace. You need to hold your breath just so you can survive reading the story.
Coes gives just enough detail to lull the reader into the plot and so that there is no veering from the immediate scene. He gives what the reader needs to understand the situation, but never guess the outcome. Masterful with tension!
The identification and execution of a very high-level mole and a mistaken assassination changes the urgency and makes it much more personal to Dewey Andreas --- all this with the undercurrent of a recession and the need by government for real money. That means China and bond sales to you and me. Ever wonder what state assassins get paid? If they survive?
On a personal note, there is a wedding ring scene that is truly breathtaking. Overall, very, very well written.

Charlotte
I finished reading the book and enjoyed it immensely. While I would like to say I did not believe most of the incidents are believable, I cannot do so.