2015 Spring Baseball Titles Reflect a New York State of Mind
Baseball Books
2015 Spring Baseball Titles Reflect a New York State of Mind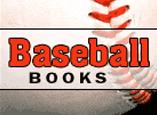 Every year seems to bring a slew of New York-centric titles to the genre of baseball literature. This year, just about all the bases are covered --- with books about the new (as in Mets and Yankees) and old (the Brooklyn Dodgers). And if you're willing to stretch, there are also new offerings for the San Francisco Giants, who left for the West Coast with their Brooklyn counterparts in 1957.
Herewith a sampling:
---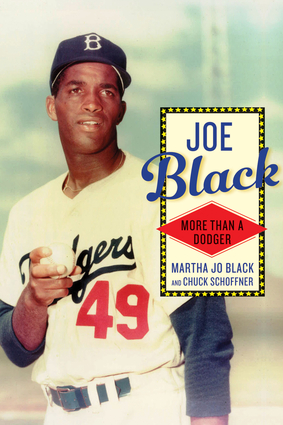 Rather than the blustery "best" or "greatest" that publishers seem to relish, JOE BLACK: More Than a Dodger --- written by Martha Jo Black and Chuck Schoffner --- employs a more realistic view of the life of a heralded athlete.
Despite all the promise and hoopla, Joe Black was basically a one-year wonder. He won 15 games and saved another 15 to help win the National League pennant in his rookie campaign for Brooklyn in 1952. He then became the first African-American pitcher to win a World Series game, and was honored for his efforts with the Rookie of the Year award.
It was downhill from there. Injuries curtailed his career, and he pitched just five more years, leaving the Dodgers in a trade with the Cincinnati Reds before finishing up with the Washington Senators.
But the college-educated Black was truly "more than a Dodger," as he went on to a teaching career in his native New Jersey and later became a high-level executive with the Greyhound Bus Company.
The joint biography by Black's daughter, Martha Jo --- who was born long after he had left the game --- and Schoffner is fairly standard and adopts a back-and-forth style as the chapters alternate between his playing days and his life before and after baseball. It is the latter part that is far more interesting; the years on the diamond, apart from the 1952 season, is a tale heard too often when it comes to players from that era, laboring without the benefits of modern medical procedures coupled with a front office management mentality that believed they knew far more than they actually did.
---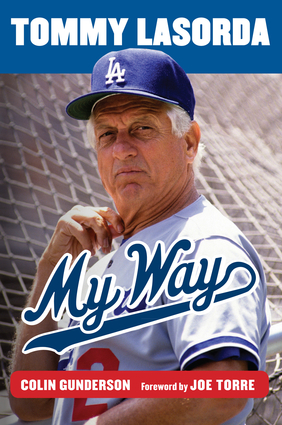 Another bio that has its roots in Brooklyn is TOMMY LASORDA: MY WAY, by Colin Gunderson, who spent more than a decade working for the Dodgers while Tommy Lasorda was the manager.
Lasorda never enjoyed great success as a Major Leaguer. His main claim to fame was being sent down in 1955 to make room for Sandy Koufax. His value came in the form of mentoring dozens, if not hundreds, of ball players.
MY WAY is an extended love poem to the Hall of Fame manager, with testimonials by many of the great Dodger players of the era who played for him in both the minors and Majors, including Steve Garvey, Rick Monday, Bobby Valentine and Ron Cey. To a man, they sing Lasorda's praises, reflecting on the gruff and profane, yet lovable, leader who turned them all into winners on the field and in life.
But it's not exactly an all-inclusive portrayal. Gunderson prefers to highlight the triumphs and downplay, if not totally ignore, the difficulties. While Lasorda championed the Dodger "family," there is little mention of his own family, and nothing about his son, Tommy Jr., whose lifestyle he found repugnant.
---
A much more honest account of a Lasorda contemporary can be found in Bill Pennington's BILLY MARTIN: Baseball's Flawed Genius. The New York Times writer praises Billy Martin for his tenacity and drive, both as a player and later as a pennant-winning manager for several teams, including the Oakland A's, Detroit Tigers, and New York Yankees, where he made his start as a second baseman in 1950.
While Gunderson glosses over the negatives in his subject's life, Pennington recognizes that Martin was a troubled figure. At each stop in his managerial career (including a stint with the Texas Rangers), his teams showed tremendous improvement. His tactics drove the opposition crazy; his frenetic style of play was dubbed "Billy Ball." And it worked…for a while. But sooner or later, his demons --- mostly in the form of alcohol-fueled fights with teammates and strangers alike --- resulted in his dismissal, despite his successes, especially his back-and-forth situation with George Steinbrenner and the Yankees. Martin's 1989 death in a car accident was a sad coda on a checkerboard life. Pennington tells the good and the bad in this well-researched project, without leaning in any one direction.
---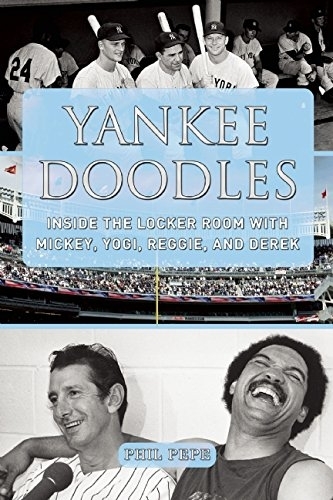 Veteran New York sportswriter Phil Pepe just turned 80 but shows no sign of slowing down. His latest contribution to the baseball literary world is YANKEE DOODLES: Inside the Locker Room with Mickey, Yogi, Reggie, and Derek, a sweet and gentle memoir, although Pepe might disagree with that characterization. Nevertheless, these are his anecdotes reaching back to the days when the beat writers traveled with the teams by train and there were only 18 teams in the Major Leagues. He covers some of the most famous Yankee personalities over that span and offers his expert opinion on the problems with the national pastime and what needs to be done to correct the situation that threatens to distance itself from a future generation of fans.
---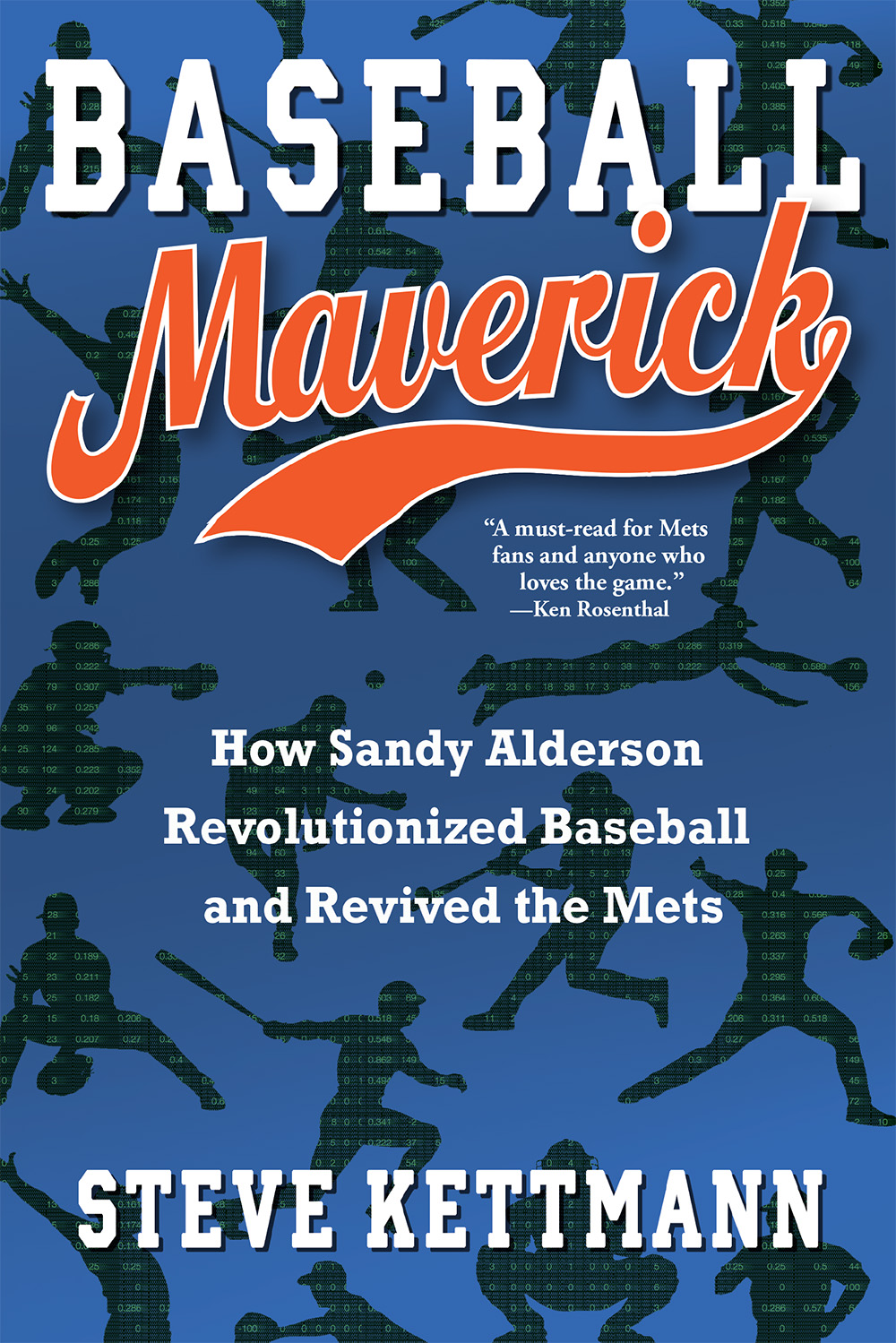 Turning to another borough, we have Steve Kettmann's BASEBALL MAVERICK: How Sandy Alderson Revolutionized Baseball and Revived the Mets.
Mets fans might quibble over the title, given that the Mets have never played above the .500 mark since Sandy Alderson took the role of general manager after the 2010 season. Kettmann --- who served as ghostwriter for Jose Canesco's JUICED, an illuminative memoir of performance-enhancing drugs, and as editor for GAME TIME, a collection of New Yorker essays by the peerless Roger Angell --- worked on this one for four years before it was released. I'm sure he hoped that Alderson would have turned things around by now and justify the subtitle.
Unfortunately, Alderson was a victim of poor timing, handcuffed by joining the team in the wake of the Bernie Madoff scandal; Mets owners had invested heavily with the financial fraud, which curtailed their ability to attract high-priced free agents.
Alderson's "maverick" status came early on, during his tenure with the Oakland A's, where he mentored Billy Beane, the team's current general manager who introduced the era of "Moneyball" made famous by Michael Lewis' classic of the same name. Kettmann makes frequent reference to Alderson's military career as a launch-point for his managerial style, commanding respect, but at the same time cognizant of the suggestions of his staff. You come away rooting for him to finally have a successful year in New York. With any luck, that time is now.

--- Reviewed by Ron Kaplan (RonKaplansBaseballBookshelf.com)