Theodor Seuss Geisel Award 2011
Awards
Theodor Seuss Geisel Award 2011
The Theodor Seuss Geisel Award is given annually to the author(s) and illustrator(s) of the most distinguished American book for beginning readers published in English in the United States during the preceding year. The winner(s), recognized for their literary and artistic achievements that demonstrate creativity and imagination to engage children in reading, receives a bronze medal. Honor Book authors and illustrators receive certificates, which are presented at the ALA Annual Conference. The award was established in 2004 and first presented in 2006. It is named for the world-renowned children's author, Theodor Geisel, a.k.a. Dr. Seuss.
---
2011 Winner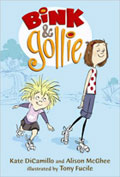 BINK AND GOLLIE
written by Kate DiCamillo and Alison McGhee
illustrated by Tony Fucile
Candlewick Press
ISBN: 9780763632663
All ages
96 pages
September 2010
Meet Bink and Gollie, two precocious little girls --- one tiny, one tall, and both utterly irrepressible. Setting out from their super-deluxe tree house and powered by plenty of peanut butter (for Bink) and pancakes (for Gollie), they share three comical adventures involving painfully bright socks, an impromptu trek to the Andes, and a most unlikely marvelous companion. No matter where their roller skates take them, at the end of the day they will always be the very best of friends.
---
2011 Honors
LING & TING: NOT EXACTLY THE SAME!
Grace Lin
Little, Brown Books for Young Readers
ISBN: 9780316024525
Ages 8-12
48 pages
July 2010
Ling and Ting are twins. They have the same brown eyes. They have the same pink cheeks. They have the same happy smiles.
Ling and Ting are two adorable identical twins, and they stick together, whether they are making dumplings, getting their hair cut, or practicing magic tricks. But looks are deceiving --- people can be very different, even if they look exactly the same.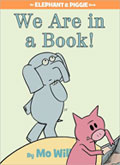 WE ARE IN A BOOK!: An Elephant & Piggie Book
written and illustrated by Mo Willems
Disney-Hyperion
ISBN: 9781423133087
Ages 4-8
64 pages
September 2010
Gerald is careful. Piggie is not.
Piggie cannot help smiling. Gerald can.
Gerald worries so that Piggie does not have to.
Gerald and Piggie are best friends.
In WE ARE IN A BOOK! Gerald and Piggie discover the joy of being read. But what will happen when the book ends?!