About the Book
About the Book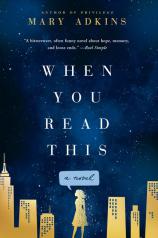 For fans of Maria Semple and Rainbow Rowell, a comedy-drama for the digital age: an epistolary debut novel about the ties that bind and break our hearts.
Iris Massey is gone.
But she's left something behind.
For four years, Iris Massey worked side by side with PR maven Smith Simonyi, helping clients perfect their brands. But Iris has died, taken by terminal illness at only 33. Adrift without his friend and colleague, Smith is surprised to discover that in her last six months, Iris created a blog filled with sharp and often funny musings on the end of a life not quite fulfilled. She also made one final request: for Smith to get her posts published as a book. With the help of his charmingly eager, if overbearingly forthright, new intern Carl, Smith tackles the task of fulfilling Iris' last wish.
Before he can do so, though, he must get the approval of Iris' big sister Jade, a haute cuisine chef who's been knocked sideways by her loss. Each carrying their own baggage, Smith and Jade end up on a collision course with their own unresolved pasts and with each other.
Told in a series of emails, blog posts, online therapy submissions, text messages, legal correspondence, home-rental bookings and other snippets of our virtual lives, WHEN YOU READ THIS is a deft, captivating romantic comedy --- funny, tragic, surprising and bittersweet --- that candidly reveals how we find new beginnings after loss.
Audiobook available, read by Sarah Naughton
When You Read This
by Mary Adkins
Publication Date: February 18, 2020
Genres: Fiction, Women's Fiction
Paperback: 400 pages
Publisher: Harper Paperbacks
ISBN-10: 0062834681
ISBN-13: 9780062834683