About the Book
About the Book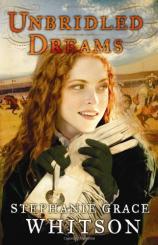 Irma Friedrich has everything a girl could want… but she's miserable. To her, the perfect life includes horses and roundups and trick riding.
Willa Friedrich, haunted by disappointment and fear, thinks controlling her daughter's future is the only way to protect Irma from dangers Willa knows all too well.
Shep Sterling, known as King of the Cowboys, leads a life that represents all Irma desires… and everything her mother fears.
Something has to give when Willa's insistence on sending Irma to finishing school collides with Irma's determination to audition for Buffalo Bill Cody's Wild West Show. And Shep Sterling is waiting in the wings….
UNBRIDLED DREAMS © Copyright 2011 by Stephanie Grace Whitson. Reprinted with permission by Bethany House. All rights reserved.