Excerpt
Excerpt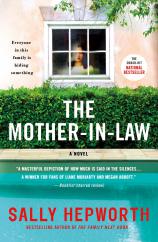 1
Lucy
I am folding laundry at my kitchen table when the police car pulls up. There's no fanfare—no sirens or flashing lights—yet that little niggle starts in the pit of my stomach, Mother Nature's warning that all is not well. It's getting dark out, early evening, and the neighbors' porch lights are starting to come on. It's dinnertime. Police don't arrive on your doorstep at dinnertime unless something is wrong.
I glance through the archway to the living room where my slothful children are stretched across different pieces of furniture, angled toward their respective devices. Alive. Unharmed. In good health apart from, perhaps, a mild screen addiction. Seven-year-old Archie is watching a family play Wii games on the big iPad; four-year-old Harriet is watching little girls in America unwrap toys on the little iPad. Even two-year-old Edie is staring, slack-jawed, at the television. I feel some measure of comfort that my family is all under this roof. At least most of them are. Dad, I think suddenly. Oh no, please not Dad.
I look back at the police car. The headlights illuminate a light mist of rain.
At least it's not the children, a guilty little voice in my head whispers. At least it isn't Ollie. Ollie is on the back deck, grilling burgers. Safe. He came home from work early today, not feeling well apparently, though he doesn't seem particularly unwell. In any case, he's alive and I'm wholeheartedly grateful for that.
The rain has picked up a little now, turning the mist into distinct, precise raindrops. The police kill the engine, but don't get out right away. I ball up a pair of Ollie's socks and place them on top of his pile and then reach for another pair. I should stand up, go to the door, but my hands continue to fold on autopilot, as if by continuing to act normally the police car will cease to exist and all will be right in the world again. But it doesn't work. Instead, a uniformed policeman emerges from the driver's seat.
"Muuuuum!" Harriet calls. "Edie is watching the TV!"
Two weeks ago, a prominent news journalist had spoken out publicly about her "revulsion" that children under the age of three were exposed to TV, actually going so far as to call it "child abuse." Like most Australian mothers, I'd been incensed about this and followed with the predictable diatribe of, "What would she know? She probably has a team of nannies and hasn't looked after her children for a day in her life!" before swiftly instating the "no screens for Edie rule" which lasted until twenty minutes ago when I was on the phone with the energy company, and Edie decided to try the old "Mum, muuuum, MUUUUUM…" trick until I relented, popping on an episode of Play School and retreating to the bedroom to finish my phone call.
"It's all right, Harriet," I say, my eyes still on the window.
Harriet's cross little face appears in front of me, her dark brown hair and thick fringe swishing around her face like a mop. "But you SAID…"
"Never mind what I said. A few minutes won't hurt."
The cop looks to be midtwenties, thirty at a push. His police hat is in his hand but he wedges it under one arm to tug at the front of his too-tight trousers. A short, rotund policewoman of a similar age gets out of the passenger side, her hat firmly on her head. They come around the car and start up the path side by side. They are definitely coming to our place. Nettie, I think suddenly. It's about Nettie.
It's possible. Ollie's sister has certainly had her share of health issues lately. Or maybe it's Patrick? Or is it something else entirely?
The fact is, part of me knows it's not Nettie or Patrick, or Dad. It's funny sometimes what you just know.
"Burgers are up."
The fly screen door scrapes open and Ollie appears at the back door holding a plate of meat. The girls flock to him and he snaps his "crocodile tongs" while they jump up and down, squealing loudly enough to nearly drown out the knock at the door.
Nearly.
"Was that the door?" Ollie raises an eyebrow, curious rather than concerned. In fact, he looks animated. An unexpected guest on a weeknight! Who could it be?
Ollie is the social one of the two of us, the one that volunteers on the Parents and Friends' committee at the kids' school because "it's a good way to meet people," who hangs over the back fence to say hi to the neighbors if he hears them talking in the garden, who approaches people who look vaguely familiar and tries to figure out if they know each other. A people person. To Ollie, an unexpected knock on the door during the week signals excitement rather than doom.
But, of course, he hasn't seen the cop car.
Edie tears down the corridor. "I get it, I get it."
"Hold on a minute, Edie-bug," Ollie says, looking for somewhere to put down the tray of burgers. He isn't fast enough though because by the time he finds some counter space, Edie has already tossed open the door.
"Poleeth!" she says, awed.
This, of course, is the part where I should run after her, intercept the police at the door and apologize, but my feet are concreted to the floor. Luckily, Ollie is already jogging up behind Edie, ruffling her hair playfully.
"G'day," he says to the cops. He glances over his shoulder back into the house, his mind caught up in the action of a few seconds ago, perhaps wondering if he remembered to turn off the gas canister or checking that he'd placed the burger plate securely on the counter. It's the classic, unassuming behavior of someone about to get bad news. I actually feel like I am watching us all on a TV show—the handsome clueless dad, the cute toddler. The regular suburban family who are about to have their lives turned inside out … ruined forever.
"What can I do for you?" Ollie says finally, turning his attention back to the cops.
"I'm Sr. Constable Arthur," I hear a woman say, though I can't see her from my vantage point, "and this is Constable Perkins. Are you Oliver Goodwin?"
"I am." Ollie smiles down at Edie, even throws her a wink. It's enough to convince me that I'm being overly dramatic. Even if there's bad news, it may not be that bad. It may not even be our bad news. Perhaps one of the neighbors was burgled? Police always canvased the area after something like that, didn't they?
Suddenly I look forward to that moment in a few minutes' time when I know that everything's fine. I think about how Ollie and I will laugh about how paranoid I was. You won't believe what I thought, I'll say to him, and he'll roll his eyes and smile. Always worrying, he'll say. How do you ever get anything done with all that worrying?
But when I edge forward a few paces, I see that my worrying isn't unnecessary. I see it in the somberness of the policeman's expression, in the downward turn of the corners of his mouth.
The policewoman glances at Edie, then back at Ollie. "Is there somewhere we can talk … privately?"
The first traces of uncertainty appear on Ollie's face. His shoulders stiffen and he stands a little bit taller. Perhaps unconsciously, he pushes Edie back from the door, behind him, shielding her from something.
"Edie-bug, would you like me to put on The Wiggles?" I say, stepping forward finally.
Edie shakes her head resolutely, her gaze not shifting from the police. Her soft round face is alight with interest; her chunky, wobbly legs are planted with improbable firmness.
"Come on, honey," I try again, sweeping a hand over her pale gold hair. "How about an ice cream?"
This is more of a dilemma for Edie. She glances at me, watching for a long moment, assessing whether I can be trusted. Finally I shout for Archie to get out the Paddle Pops and she scampers off down the hallway.
"Come in," Ollie says to the police, and they do, sending me a quick, polite smile. A sorry smile. A smile that pierces my heart, unpicks me a little. It's not the neighbors, that smile says. This bad news is yours.
There aren't a lot of private communal areas in our house so Ollie guides the police to the dining room and pulls out a couple of chairs. I follow, pushing my newly folded laundry into a basket. The piles collapse into each other like tumbling buildings. The police sit on the chairs, Ollie balances on the arm of the sofa, and I remain sharply upright, stiff. Bracing.
"Firstly I need to confirm that you are relatives of Diana Goodwin—"
"Yes," Ollie says, "she's my mother."
"Then I'm very sorry to inform you," the policewoman starts, and I close my eyes because I already know what she is going to say.
My mother-in-law is dead.
Copyright © 2019 by Sally Hepworth