Excerpt
Excerpt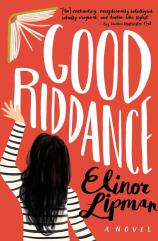 1
The Grateful Class of '68
For a few weeks after my mother's death, I was in possession of the painstakingly annotated high school year-book that had been dedicated to her by the grateful class of 1968.
Yes, she'd been their English teacher and yearbook advisor, but that didn't explain her obsessive collecting of signatures and tributes next to every senior's photo. I could picture her — age twenty-three, her first job after college, roaming the corridors of Pickering High School, pen and book in hand, coaxing the shyest, least engaged boy or girl to sign — Write anything. I want to remember every one of you. Could you personalize it, just a few words?
But there would be more — her own embellishments, her judgments and opinions, written next to those photos in her small legible hand, a different color ink (red, green, blue) for several milestone reunions, which she attended compulsively, starting with the fifth and continuing until her last, their forty-fifth.
Her margin notes were coded but easily deciphered: "M" for married. "S" for single. "D" for dead; "DIV" for divorced. "DWI," said a few. "AIDS?" suggested one notation. "Same dress she wore at 15th" my mother recorded. "Very plump" was one of her milder put-downs. "Braces." "Pregnant." Occasionally, "Still pretty." "Looks older than I do" was one of her favorite notes. "Still holds PHS record for 100-yd. dash," said one. And "danced w. him" appeared often.
Had I known about this project as it was happening? I hadn't. Several reunions were held before I was born, and later ones, at-tended even after she retired, weren't discussed with her two daughters. After all, we might know some of these graduates as the parents of our friends or our own teachers or custodians or police officers or panhandlers, townspeople still.
A handwritten codicil on the last page of my mother's will said, "My daughter Daphne will take possession of the Pickering High School's yearbook, The Monadnockian." And nothing more.
I took it back with me to Manhattan, where it stayed on my shelf for a month until I read a magazine article about decluttering.
The test? Would I ever reread this novel, these college text-books, these magazines? Did I really need a Portuguese-English dictionary? What about the panini press and my dead Black-Berry? The expert recommended this: Hold the item in question, be it book or sweater or socks or muffin tin, to your chest, over your heart, and ask yourself, Does this thing inspire joy?
I hugged the yearbook. Nothing. Well, not nothing; worse than that: an aversion. Apparently, I didn't want, nor would I miss, this testimony to the unsympathetic, snarky side of my mother's character.
The best-selling decluttering wizard said the property owner had to be tough, even ruthless. I certainly was that. Good-bye, ugly white-vinyl, ink-stained yearbook with your put-downs and your faint smell of mildew! Maybe it was my mother's legacy and a time capsule, but it had failed to stir emotion in my bosom. Possessing too much stuff anyway, in a cramped apartment, book-shelves overflowing, I threw it out. Or rather, being a good citizen, I walked it down the hall to my building's trash closet, straight into the recycling bin.
2
Okay, Listen I'd never met Geneva Wisekorn despite our residing at opposite ends of the same hallway. Our introduction came in the form of a note slipped under my door announcing, "I found something that belongs to you. Are you home?" followed by an email address and phone, office, and mobile numbers. My wallet? My keys? I checked my pocketbook. All there. Had a misdelivered piece of mail or dropped glove been traced back to me? I went to my laptop and wrote to this seemingly thoughtful stranger, asking what possession of mine she'd found.
She wrote back immediately. "A high school yearbook. We need to talk!"
No, we didn't. I hit reply and wrote, "Thanks anyway, but I recycled that," then added a postscript — "It has no meaning or value, sentimental or otherwise" — in case she was looking for a reward.
"Contact info?" she answered.
My first mistake: I sent it. Immediately, my phone rang. After my wary "Hello," I heard, "I think you'll be very interested in what I have to say."
I asked how she knew the yearbook, which I now decided I needed back, belonged to me.
"Because I found it with magazines that had your name on the subscription labels."
I said, "I'd never forgive myself if a yearbook with all that personal stuff written in it got into the hands of a stranger."
"Then why'd you throw it out?"
"I thought it would go to some landfill! Or get turned into what-ever recycled paper gets turned into."
"I know the rules. If it's trash left at the curbside or at the dump, the possessor has relegated ownership."
The possessor has relegated ownership? Was I talking to this ragpicker's lawyer?
"Finders keepers, in other words?"
"Precisely."