Books to Fall in Love With 2018
Valentine's Day (Books To Fall in Love With)
Books to Fall in Love With 2018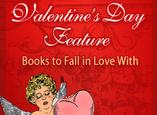 Valentine's Day is only a few heartbeats away. We can't think of a better way to celebrate this special day than to cuddle up with your loved one...and a good book, of course!
We're giving readers the chance to win one of our five Bookreporter.com Valentine's Day prize packages, which includes one copy of each of our featured titles and some delicious chocolates. Enter between now and Wednesday, February 14th at noon ET for your opportunity to be a lucky (and beloved!) winner.
If you're feeling frisky, share with us your all-time book character crush. Don't be shy, we all got 'em! We'll post the top 10 literary loves and lusts --- along with the five winners --- right after Valentine's Day.
This year's featured Valentine's Day titles are:
DRIFTWOOD COVE by Debbie Mason

THE KISS: Intimacies from Writers, edited by Brian Turner

LOVE PARISIENNE: The French Woman's Guide to Love and Passion, written by Florence Besson, Eva Amor and Claire Steinlen, illustrations by Sophie Griotto

LOVE THAT LASTS: How We Discovered God's Better Way for Love, Dating, Marriage, and Sex, by Jefferson and Alyssa Bethke

OUR BEST LIFE TOGETHER: A Daily Devotional for Couples, by Joel and Victoria Osteen

SURPRISE ME by Sophie Kinsella

TRUE TO YOU: A Bradford Sisters Romance, by Becky Wade
To enter, please fill out the form below by Wednesday, February 14th at noon ET.
» Click here to read the official contest rules.

» If you are experiencing problems with the form, click here.