2014 All-Star Baseball Titles
Baseball Books
2014 All-Star Baseball Titles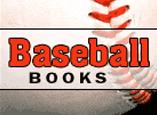 The All-Star Game takes place in Minnesota on July 15th. While your favorite player may not have been selected for the roster, there is no shortage of All-Star-caliber books to take your mind off the disappointment. Here are three you'll want to consider reading.
---
Willie Randolph appeared in six "summer classics," five as a member of the New York Yankees. He also played for the Pittsburgh Pirates, Los Angeles Dodgers, Oakland As and Milwaukee Brewers before winding up his playing career with the New York Mets, whom he also managed for three-plus seasons.
But it was as a Bronx Bomber, where he enjoyed his greatest success, that Randolph bases his new memoir, THE YANKEE WAY: Playing, Coaching, and My Life in Baseball. As sports memoirs go, THE YANKEE WAY is fairly standard: the player reflects on his humble origins, his "courtship" and signing by a team, his progress through the minor league system, and his eventual ascension to The Show.
Timing is often a crucial element. Randolph had the good fortune of joining the Yankees at the beginning of their revival in the mid-1970s after a decade of dormancy. His teammates included Thurman Munson, Reggie Jackson, Ron Guidry and Don Mattingly, among others for whom he has universally nice things to say. If there's a knock here, it's that Randolph refuses to dish the dirt. The anecdotes he shares about "The Bronx Zoo," (which relief pitcher Sparky Lyle used for his 1979 memoir) with its wild and crazy characters, led by the notorious manager Billy Martin and under the stewardship of George Steinbrenner, have been told many times. But Randolph is a man of faith, thus gossip and denigrating comments are not in his make-up.
---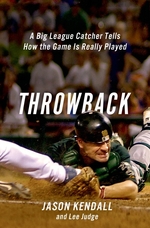 Jason Kendall may not have appeared in as many All-Star games as Randolph, but his knowledge of the game is right up there. He shares it with a mix a glee and agitation in THROWBACK: A Big-League Catcher Tells How the Game is Really Played, written with Kansas City Star sportswriter Lee Judge.
Examining each position in thoughtful study, Kendall, who played for five teams over 15 seasons, primarily with the Pirates, delves into the requirements for success at each spot. Other players have done this sort of analysis, including Keith Hernandez in IF AT FIRST, but Kendall --- who appeared in three All-Star contests --- brings a good amount of attitude to his observations; he has little patience for laziness and inattention to detail.
In addition to the nine defensive positions, Kendall and Judge consider the role of managers, base runners, batters, signs and "the other stuff." They also include a smart glossary that doesn't seek to be a primer for beginners.
There's so much information here that readers of THROWBACK will have to trek out to the ballpark --- probably several times --- to truly incorporate all this information. The limited camera perspectives of televised games can't offer viewers to catch all these nuances and tics.
---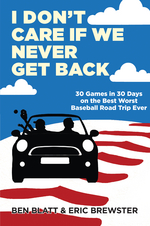 The lessons in THROWBACK might be a bit beyond the needs of Ben Blatt and Eric Brewster, co-authors of I DON'T CARE IF WE NEVER GET BACK: 30 Games in 30 Days on the Best Worst Baseball Road Trip Ever.
This "buddy project" by two Harvard grads on their last free summer seems a bit gimmicky but is nonetheless impressive as they set out to watch every pitch of every contest, and do it by driving to each ballpark, an enormous undertaking in terms of planning and procedure. Sadly, so much time and energy goes into that planning and execution that they don't seem to enjoy the experience. Only the deus ex machina of a rainout allowed them to make it, even if that meant adding one day to the schedule (a technicality). After all, even the best laid plans can't account for inclement weather in the forms of torrential rainstorms, or extra innings, which delay the process.
At times, I DON'T CARE seems more about pop culture and relationships than baseball for this "odd couple" --- one is a true fan, the other, not so much, more interested in the algorithms of the plan than the teams themselves. In fact, a couple of the games barely merit mention, other than the fact that Blatt and Brewster were there. Those interested in the details of carefully planned road trips will enjoy the tension of getting from one point to the next.
One component sorely lacking --- and this might be a matter of economics on the part of the publisher --- is the lack of illustrations. There are no photographs, only a few maps indicating movement that are so small as to be practically useless.
Kudos to Blatt and Brewster for undertaking the trip, but lighten up, guys; this was supposed to be fun!
---
--- Reviewed by Ron Kaplan (http://RonKaplansBaseballBookshelf.com)