Theodor Seuss Geisel Award 2010
Awards
Theodor Seuss Geisel Award 2010
The Theodor Seuss Geisel Award is given annually to the author(s) and illustrator(s) of the most distinguished American book for beginning readers published in English in the United States during the preceding year. The winner(s), recognized for their literary and artistic achievements that demonstrate creativity and imagination to engage children in reading, receives a bronze medal. Honor Book authors and illustrators receive certificates, which are presented at the ALA Annual Conference. The award was established in 2004 and first presented in 2006. It is named for the world-renowned children's author, Theodor Geisel, a.k.a. Dr. Seuss.
---
2010 Winner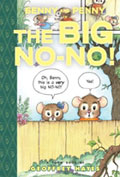 BENNY AND PENNY IN THE BIG NO-NO!
written and illustrated by Geoffrey Hayes
TOON Books
ISBN: 9780979923890
Ages 4-8
32 pages
April 2009
What will Benny and Penny find when they cross the line in THE BIG NO-NO? Benny's favorite pail is missing, and there are mysterious muddy footprints. In this charming whodunit, Benny and his little sister Penny team-up to investigate, braving the dangers of the new neighbor's yard, and finding something unexpected on the other side of the fence.
---
2010 Honors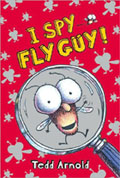 I SPY FLY GUY!
written and illustrated by Tedd Arnold
Cartwheel Books/Scholastic
ISBN: 9780545110280
Ages 4-up
32 pages
October 2009
When Fly Guy and Buzz play hide-and-seek, Fly Guy hides in his favorite place --- the garbage can. But as Buzz finishes counting, the garbageman drives away with the garbage and Fly Guy, too! A very worried Buzz follows the truck to the dump, where he sees zillions of flies. Where is Fly Guy?!

LITTLE MOUSE GETS READY
written and illustrated by Jeff Smith
TOON Books
ISBN: 9781935179016
Ages 4-8
32 pages
September 2009
There is a lot to do before Little Mouse is ready to go visit the barn. Will he master all the intricacies of getting dressed, from snaps and buttons to Velcro and tail holes? Eisner Award-winning cartoonist Jeff Smith (Bone) and his determined Little Mouse reveal all the smallest pleasures of this daily task.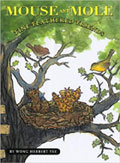 MOUSE AND MOLE, FINE FEATHERED FRIENDS
written and illustrated by Wong Herbert Yee
Houghton Mifflin Harcourt
ISBN: 9780547152226
Ages 4-8
48 pages
August 2009
It is a blustery spring day, and Mouse and Mole are very excited. They are going to go bird watching! They are planning to make bird books! Mouse and Mole pack paper and crayons and hurry outside. It turns out, birds are not so easy to watch. Splashing in puddles scare them away. Stepping on crunchy leaves does too.
Mole rubs his snout. Mouse twirls her tail. Together, they come up with a plan to get closer to the birds. A plan that includes glue and feathers…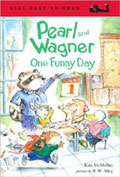 PEARL AND WAGNER: ONE FUNNY DAY
written by Kate McMullan
illustrated by R. W. Alley
Dial Books for Young Readers
ISBN: 9780803730854
Ages 5-8
40 pages
March 2009
In three short and simple chapters, friends Pearl and Wagner experience the hijinks and pranks of April Fools' Day. Beginning with the cover art, Kate McMullan and R. W. Alley set the stage and draw the reader in immediately. Readers will be delighted as Wagner gets the last laugh!